24/7 alcohol ban
There is a 24/7 ban in the central city and parts of Te Rapa. Hamilton also has an alcohol ban in all public places across the city from 10pm to 6am.
The ban is a safety initiative to:
reduce alcohol-related crime and disorder
provide a safe city environment for everyone.
The penalty for breaching an alcohol ban is an infringement fee of $250. See our Alcohol Control Bylaw for more information.
Temporary alcohol ban
The area for Hamilton's alcohol ban in public spaces has been extended for Saturday 21 and Sunday 22 January for the HSBC NZ Sevens 2023.
As well as the usual 24/7 alcohol ban area (in yellow on the map), you also won't be able to drink/have opened alcohol in the area marked in orange on the map.
You are able to carry unopened alcohol if you're going home or to a restaurant or shop. Breaches of the temporary alcohol ban could result in a $250 fine (Alcohol Control Bylaws 2015).
The Hamilton Alcohol Control Bylaw 2015 is designed to reduce alcohol-related harm, crime and disorder, and to provide a safe city environment. The information below outlines our city's alcohol ban areas and ban hours; ban exceptions; and information on issues related to people drinking in an alcohol ban area. We have also provided a map of Hamilton's central city alcohol ban area.
If you still need more information, please email licensing@hcc.govt.nz or call 07 838 6633.
What is a public place?
A public place is any area that is open to, or being used by the public. It includes roads, service lanes, footpaths, pedestrian malls, public car parks, parks and reserves.

The alcohol ban also applies to the possession and consumption of alcohol in a vehicle within a public place. The police can search a vehicle that is in or entering a public place to check if alcohol is present.
24-hour central city alcohol ban
This map shows the area in which there is a 24/7 alcohol ban.
Te Rapa Alcohol Ban Area
Alcohol is banned in the shaded blue area 24 hours a day, 7 days a week.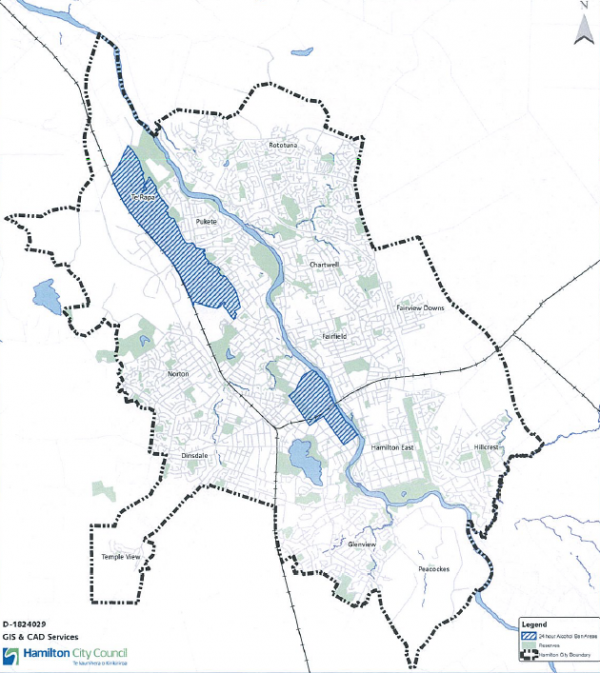 Time Restricted Alcohol Ban Area
The time restricted alcohol ban covers all public places within the black dotted lines on the map from 10pm to 6am, 7 days a week.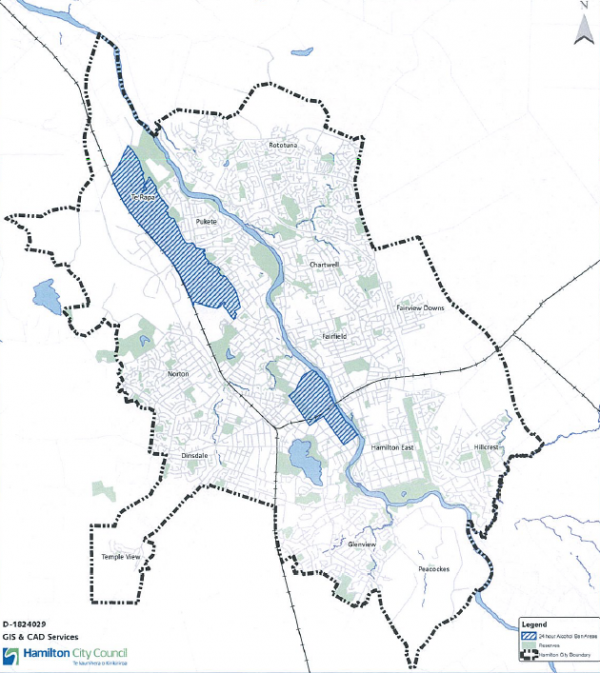 Alcohol ban exceptions
The ban does not apply to licensed premises or their outdoor areas, or to people carrying unopened bottles or cans from licensed premises to areas outside the ban or private property.
The ban also does not prohibit the possession or consumption of alcohol in a public place where an alcohol licence has been issued under the Sale and Supply of Alcohol Act.
This means you can still:
bring your own (BYO) alcohol to a restaurant
receive stock if you are a business owner
transport alcohol to and from your home.
Application to consume alcohol
We can authorise low-risk activities that would otherwise breach the alcohol ban.

If you want permission to hold an event where a limited amount of alcohol will be consumed in a public place, please email licensing@hcc.govt.nz or call 07 838 6633.
Depending on the circumstances, you will either need to apply for a special license or an exemption from the bylaw.
Feedback
Last updated 7 July 2022