Project Summary
What we're doing
We're making upgrades along Pembroke Street to make bus services more accessible and reliable, while also creating a safer space for people walking and biking.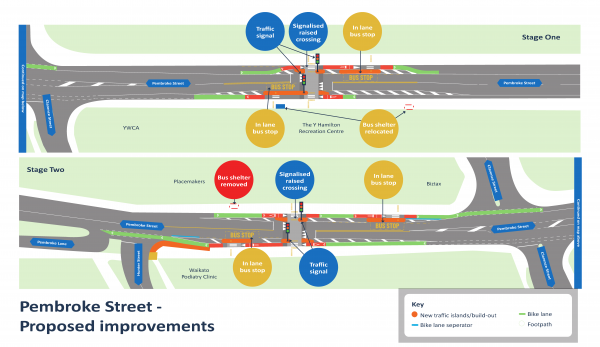 These upgrades include:
relocating one bus shelter and removing another along Pembroke Street
upgrading bus stops to in-lane bus stops
installing two new raised, signalised crossings near to the new bus stops
installing bus stop bypasses to re-route people on bikes off the road, allowing them to avoid interactions with buses.
Why we're doing it
The bus shelter replacement and in-lane bus stop upgrades will provide a safe, comfortable and convenient place for bus passengers, including those who catch the high-frequency Comet bus service provided by Waikato Regional Council.
The raised, signalised crossings will improve pedestrian safety, making it easier to access the nearby YMCA, supermarket and other amenities.
This project is funded by Waka Kotahi NZ Transport Agency's Transport Choices programme and it will help create a connected network across the city, supporting Council's move to a low emissions transport system in response to climate change.
This project will
Provide an accessible bus service

Improve pedestrian safety

Safer spaces for people on bikes
Where are we at
Stage 1 - Planning

September 2023

Public feedback has closed, and the project has moved to the design phase.

Stage 2 - Underway

October 2023

For the first stage of the project, construction begins October 2023.

Stage 3 - Underway

March 2024

The second stage is planned for construction, March 2024.

Stage 4 - Completed

April 2024

Our goal is to complete the first stage of the project in November 2023 and the second stage in April 2024. All projects in the Transport Choices programme…
Frequently Asked Questions
This type of bus stop allows buses to stop in the traffic lane to pick up or drop off passengers, rather than pulling off to the side.

Situations where we might consider an in-lane bus stop include:
difficult for the bus to merge back into the traffic stream
vehicle speeds through the area are no higher than 50km/h
fewer than 800 vehicles per hour travel in the same direction as the bus
kerbside parking demand is high.
This is a two-stage project. Construction work for the first stage is proposed for Monday 9 October 2023 and will take three weeks to complete, weather dependent.
Yes.
The proposed road closures during construction include a single northbound lane. The lane closure will only be in affect when the site is attended. Northbound traffic will be detoured along Pembroke Street and Ruakiwi Road.
A southbound lane (towards Waikato Hospital) will always be available.
Both lanes will be open overnight.
Feedback
Last updated 6 November 2023