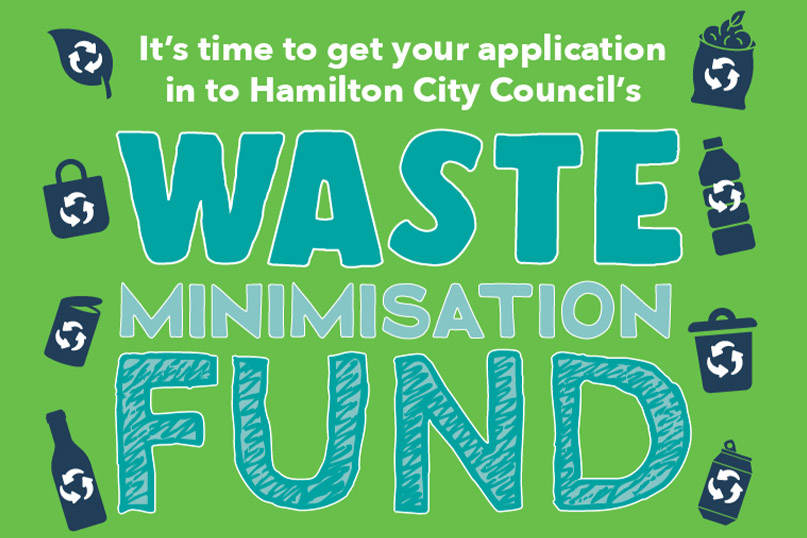 Calling all waste reduction groups! It's time to get your application in to Hamilton City Council's Waste Minimisation Fund.
Applications are being accepted between Tuesday 13 March and Monday 14 April 2023.
The fund distributes a total of $50,000 each year across successful applicants and can include iwi, business and education/community groups based in Hamilton.
Groups need to be involved in local waste reduction projects and initiatives with outcomes that benefit the Hamilton community. They can apply for one of two options: standard funding (to receive between $1000 to $5000); or special projects (to receive between $5000 to $15,000).
The fund encourages projects championing long-term waste minimisation and behaviour change, in line with the vision of the Council's Waste Management and Minimisation Plan, Hamilton City Council's Sustainable Resource Recovery Unit Director Tania Hermann.
"It's all about helping enthusiastic, effective and innovative groups who are trying to keep waste out of our landfills," says Hermann.
"That could be through projects, feasibility studies, trials and pilot programmes, education programmes, or neighbourhood activities. The funds can also help with materials and equipment, skills development, and costs related to research, monitoring and surveys that directly assist a waste-reduction initiative."
Hamilton City Council's Waste Minimisation Education Advisor, Belinda Goodwin says groups need to be able to demonstrate measurable outcomes for the work they're doing. She is excited to see last year's successful applicants doing great work with their funds.
"Last year's successful applicants included Hillcrest Community Childcare, which has cut back on its food waste significantly through a garden and compost system and is reducing waste to landfill through reuse and education around waste free lunchboxes," she said.
"A car seat recycling organisation kept 300 car seats out of landfill over the last 12 months; and the Kukutaruhe Education Trust Board are using compost bins to divert food waste from neighbouring cafes and childhood centres as well as educating their local community on the benefits of composting."
Goodwin says Council is keen to hear about waste minimisation activities that have sprung up since last year's funding round, although "we'd also consider applications from existing waste minimisation groups who have expanded what they're doing and gain clear benefits as a result".
To find more about the fund and how to apply, please contact the team at wasteminimisation@hcc.govt.nz​ or call 07 838 6718 and ask to speak to Education Advisor Belinda Goodwin. More information can be found online at fightthelandfill.co.nz/wastefund.
For more about waste minimisation click here! https://www.fightthelandfill.co.nz/