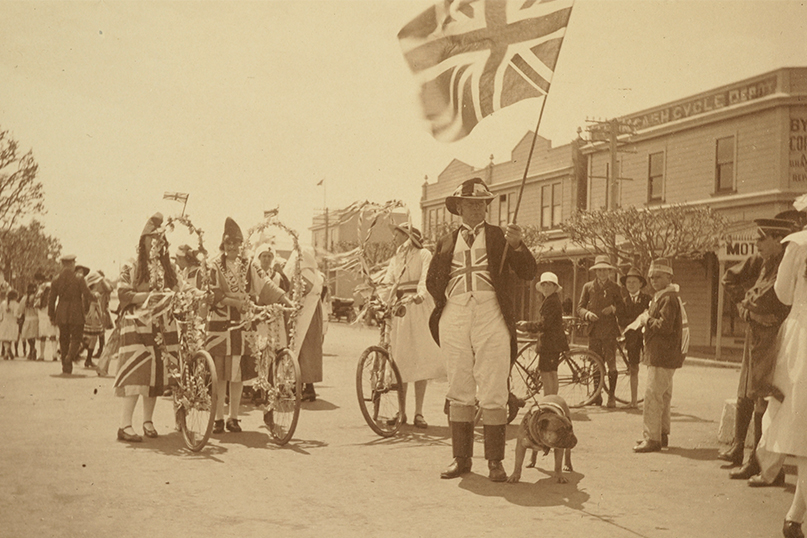 It's nearly 100 years since the guns of World War One fell silent on Armistice Day 1918 and Hamilton is gearing up for a major centenary remembrance service and celebration on Sunday 11 November.
The service gets underway at 10.15am at Memorial Park on River Rd.
A special feature this year will be the recreation of a "roaring chorus" of "miscellaneous pipings, blastings, tootings and rattlings" that was a feature of Armistice Day celebrations in 1918.
"The observation of two minute's silence at 11am on the 11th day of the 11th month will have particular resonance this year," says Mayor Andrew King. "We'll also aim to capture the spirit of celebration at war's end with our own roaring chorus in Hamilton.
"One hundred years on, we still remember them, those who served and particularly those who didn't return from the Great War. Our centenary memorial event, and subsequent community concert and picnic, will be a time to remember the sacrifices made by Kiwis and others during that terrible conflict, to celebrate the peace that followed and to look to the future.
"It's an opportunity to commit again to the avoidance of conflict wherever possible and to deepen our already close bonds with the Belgian city of Ieper, an area where many Waikato soldiers served," says Mayor Andrew.
"One hundred years on, we still remember them, those who served and particularly those who didn't return from the Great War.
A delegation from Ieper will be in attendance. Hamilton has installed an Ieper Garden at Memorial Park, while Ieper is currently developing a Hamilton Park in their city. Mayor Andrew went there earlier this year at the city's invitation and turned the first sod on the project, and planted NZ native trees.
Mayor Andrew, Luc Dehaene, a former mayor of Ieper, and former Hamilton councilor Peter Bos – who was instrumental in establishing links between the cities – are due to speak at the service.
Mr Bos, chair of the Hamilton Ieper Project Trust, stressed the Ieper Garden here isn't a cenotaph to honour our war dead. "This garden is to thank a European city, Ieper, for the way they honour and look after our fallen."
The service will include the burying of a time capsule. Among its contents will be personal items of war memorabilia from the forebears of local business people who made donations to the Ieper memorial project, along with stories about the Hamilton businesses involved.
A memorial gravestone gifted to Hamilton by Ieper and the Ieper War Graves Commission will this year, for the first time, be in place in the Ieper Garden for Armistice Day. Three hundred named white crosses will be displayed in memory of the Hamilton people who died in the conflict.
The family outdoor concert and community picnic to follow the service will feature brass bands, choirs, songs and music from the World War One era, and old-style games such as egg and spoon, and sack races. Purple poppies representing animals who died in the conflict will be available from the War Horse Trust in the afternoon. Horses will be in attendance as well.
Background information:
The relationship between Hamilton and Ieper stretches back to World War One, when a large contingent of New Zealanders – including the Hamilton Light Horse Brigade – fought as part of a Commonwealth force in the area around Ieper.
Many New Zealanders and Commonwealth soldiers who fought at Flanders and Passchendaele are buried in or near Ieper.
Since 2006, after deeper ties were initially forged by then Councillor Peter Bos, the relationship between Ieper and Hamilton has become closer in a range of ways, including the creation of the Ieper Garden in Memorial Park and the start of the Hamilton Park in Ieper.
On Anzac Day 2010 the Mayor of Ieper and the Ieper War Graves Commission presented to Hamilton City Council a granite headstone which was then placed in Memorial Park.
In 2013, a formal special relationship was recognised through a Memorandum of Understanding between Hamilton's and Ieper's then Mayors. The two cities are now exploring a more formalised sister city relationship, which would see Ieper join Chengdu (China), Wuxi (China), Sacramento (USA) and Saitama (Japan) as one of Hamilton's sister city.
The sacrifices of Kiwi and Commonwealth soldiers remain important to the people of Ieper, and the city's The Last Post Association plays The Last Post every night at Menin Gate – a significant mausoleum and war dead marker in Ieper.