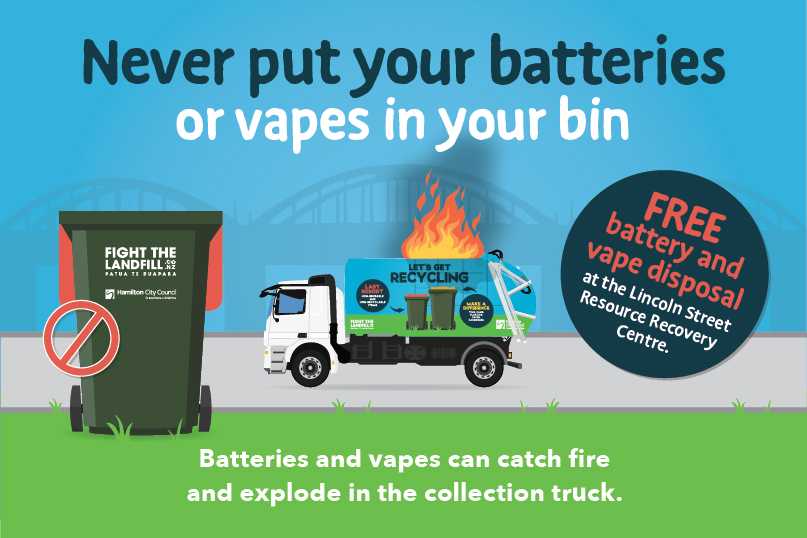 Lithium batteries have sparked five fires in rubbish bags or kerbside rubbish/recycling bins in Hamilton over the past nine months, after two recent fires within a two-week period.
The fires have been caused by lithium batteries disposed of in bags left at the Lincoln Street Resource Recovery Centre or in red landfill and yellow recycling kerbside bins.
Lithium batteries catch fire or explode when the bags are compressed in the kerbside collection truck or as they are compacted at the Resource Recovery Centre.
In these cases, lithium batteries from vapes have been the main culprit, but these batteries can also be found in smart phones, e-scooters, laptops, portable phone chargers and electric toothbrushes, among other devices.
The last two fires, on top of the three others in May, June and July, are concerning to Hamilton City Council's Sustainable Resource Recovery Unit Manager Tania Hermann.
"Disposing of batteries in bags or kerbside bins puts people at risk, it's very dangerous and we need to be doing better. We understand a big deterrent for people to dispose of them properly is having to go out of their way."
Hermann said residents can talk to their vape supplier about their in-store battery disposal system. Council provides a free battery and electrical waste disposal bin at the Resource Recovery Centre – along with free household recycling, glass and hazardous waste disposal.
"If people are dropping their rubbish at the Resource Recovery Centre, we recommend keeping the batteries out and dropping them in the bin for free in the recycling section of the facility. It's as easy as that."
She encouraged organisations and businesses to start their own internal battery disposal bins and have staff take turns dropping them off to the Resource Recovery Centre.
"There's lots of solutions to this. People just have to be willing to take an extra step to dispose of batteries in a safe way rather than causing a fire that could seriously injure someone.
"No one wants that on their conscience. Please take a second to think if there is another way - it really could be the difference between life and death."