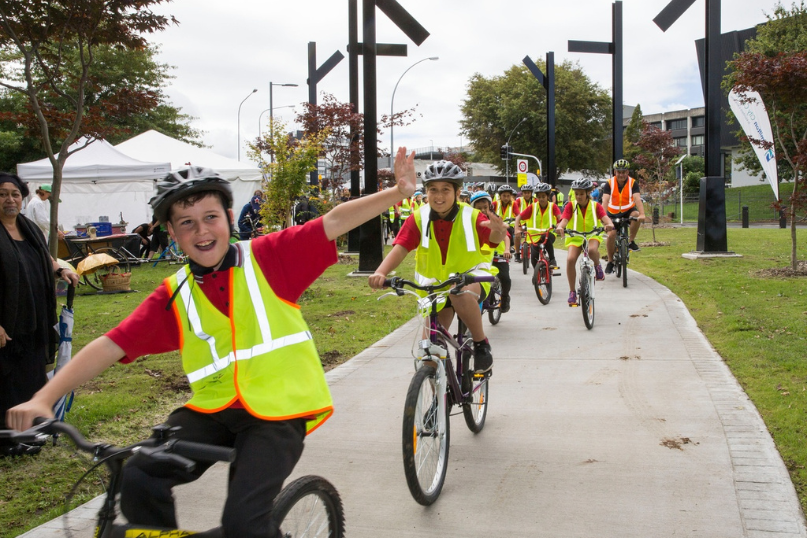 Hamilton City Council is introducing a month-long festival of biking to encourage Hamiltonians to get on their bikes and explore the city.
Happening for the first time in Hamilton this October, Biketober includes a range of events for all ages and abilities such as school holiday programmes, bike workshops, and community rides.
Mihi Bennett-Smith, Transport Education Team Lead for Infrastructure Operations and Assets, said Biketober gives Hamiltonians the opportunity to develop their skills and safety awareness when biking in the city.
"Biketober encourages the community to get out and about and discover new places to bike. Hamilton has so many great opportunities for biking," said Bennett-Smith.
Council is also working hard to upgrade Hamilton's streets to make biking more desirable by improving key routes in the city.
"We've been making changes to our streets to make it safer and easier for people on bikes to get around – this includes separated bike lanes, shared paths and upgraded crossings," said Bennett-Smith.
Developing connected bike pathways to popular destinations enables more people to easily access these locations, with shared paths also for pedestrian and micro-mobility use.
"The connected bike links will encourage more of the community to access Hamilton by bike and help us work towards providing a better transport system for all," said Bennett-Smith.
One of Biketober's community rides, from Frankton Railway Station to Hamilton Lake Domain, makes use of the recently upgraded intersection between Killarney Road and Queens Avenue.
Upgrades to Hamilton's biking network are intended to connect to bike routes in the outer parts of the city which include 150km of on-road and off-road biking paths, plus 30km of stunning river paths.
What's on in Biketober?
Tuesday 3 October 2023 – Holiday Programme – Western Community Centre
Wednesday 4 October 2023 – Holiday Programme – Hillcrest Pump Track
Thursday 5 October 2023 – Holiday Programme – Pukete School
Friday 6 October 2023 – Holiday Programme – Pukete Mountain Bike Park
Friday 6 October 2023 – Grade 1 Bike Skills Training – Settlement Centre Waikato
Saturday 7 October – ABC Air Workshop – Go Eco, Frankton
Saturday 14 October – Boon Art Tour – Civic Square
Saturday 14 October – ABC Brakes Workshop – Go Eco, Frankton
Friday 20 October – Beginner Bike Skills Training – Settlement Centre Waikato
Saturday 21 October – ABC Chain Workshop – Go Eco, Frankton
Wednesday 25 October – Community Ride – Hamilton Gardens along Te Awa River Ride
Thursday 26 October – Community Ride – Melville Skatepark to Sandford Park

Saturday 28 October

– Community Family-Friendly Ride – Frankton Railway Station to Hamilton Lake Domain

Find out more and sign up to the Biketober events at hamilton.govt.nz/biketober