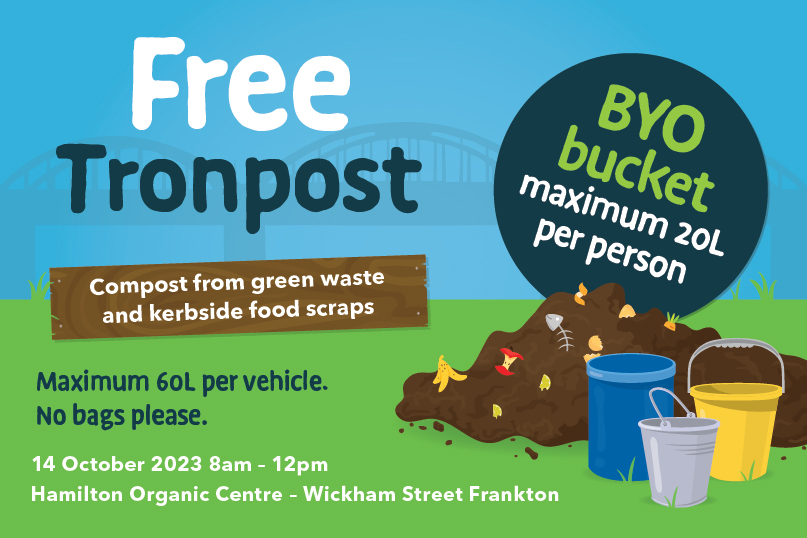 Are you ready to give your garden a nutrient blast?
This Saturday, 14 October, Hamilton City Council is bringing its annual BYO Bucket event back – where you can fill your buckets with free Tronpost.
Tronpost is compost, made from green waste and Hamiltonians' kerbside food scraps.
From 8am - 12pm on Saturday, you can bring a bucket or hard reusable container, up to 20L, to the Wickham Street Hamilton Organic Centre. The team from Council's Sustainable Resource Recovery Unit will fill it with free Tronpost, while stocks last.
"We launched this event in 2022, and it was very popular. Our shovels are ready and we are excited to see you all there," said Council's Sustainable Resource Recovery Unit Director Tania Hermann.
There will be a limit of 20L of Tronpost per person, and a maximum of 60L per vehicle (for those travelling together). Bags and any single use containers will not be accepted.
Buckets will be filled by the team on-site, who will also help cart the buckets and reusable containers back to vehicles if required.
"Leave your shovels at home and let us be the muscle," said Hermann.
Hermann said people should expect delays at the Hamilton Organic Centre but people could car pool to reduce the amount of waiting vehicles.
"It's our aim to get buckets filled as quickly as possible to help alleviate any delays. Please be patient with the staff on-site and our team. Rest assured we will all be doing our best and working our hardest."
Learn more about Tronpost and the Hamilton Organic Centre at our Fight the Landfill website.