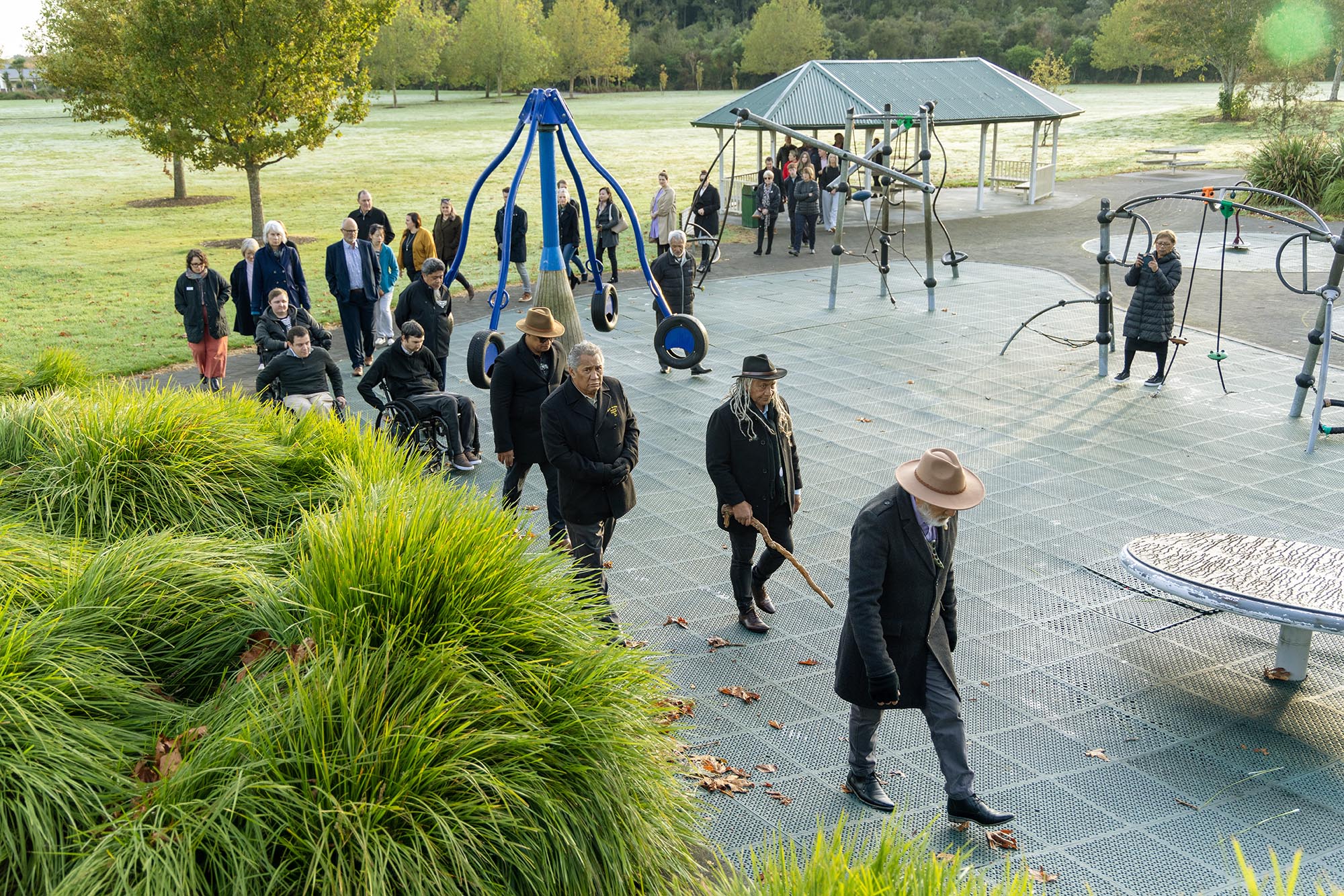 There are magical times ahead for Hamilton Kirikiriroa – the Magical Bridge trust, in partnership with Hamilton City Council will kick off construction of a new all-inclusive playground at Claudelands Park on Monday 8 May.
A sod-turning ceremony held at Claudelands Playground on Friday 28 April marked the countdown to the construction of the first Magical Bridge playground for New Zealand Aotearoa and Hamilton Kirikiriroa. The fully inclusive destination playground will provide a safe place to play for people of all physical capabilities and ages, as well as considering the needs of people with intellectual disabilities including autism and sensory, visual and hearing impairments.
Construction will take place in two stages, with the first stage expected to take around eight months to complete.
Magical Bridge Trust CEO Peter van Vroonhoven says the blessing, groundbreaking, and the start of construction of Hamilton's Magical Bridge Playground is the culmination of almost four years of hard work.
"It has been a truly humbling experience to have such universal support for the Magical Bridge vision, and I can't wait till members of our community, regardless of ability or age, can enjoy a playground, often for the first time," he said. "The trust's fundraising efforts so far mean we can deliver an amazing and truly magical play experience. Fundraising is ongoing however to be able to deliver the final few pieces of equipment. We'd like to thank all those who have helped us get to where we are today - the Council, many community organisations, and our countless supporters, funders, and suppliers."
Stage one of construction will see a playground with improved inclusivity built on the existing Claudelands Park playground footprint. Stage two will add several more play zones, alongside facilities such as toilets. Stage one is fully funded through a combination of community grants, sponsorship and in-kind donations as well as funding from Council's existing renewals budget.
Councillor Kesh Naidoo-Rauf, Chair of the Community and Natural Environment Committee, says the Magical Bridge Playground is an exciting addition to Claudelands Park and the wider community.
"One in four Hamiltonians identify as living with a disability – it's so important that we provide a safe and inclusive play space for people of all ages and abilities," she said. "We are thrilled to be working with Peter and the Magical Bridge team to bring the country's first playground of its kind to our city, creating a more open and welcoming Hamilton Kirikiriroa."
While these works take place, the nearby Parana Park playground and Fairfield Park playground provide a great alternative space for families to take their children. Check out some other playgrounds to explore on our website.
You can keep up to date with the project at the Magical Bridge website. The Trust would like to thank funding partners including the Lotteries Fund, Trust Waikato, Pub Charity, The Lion Foundation, Perry, Fluhler Contracting and the many more suppliers and professionals who are helping to bring the Magical Bridge playground to life.
More about the playground
The 4000m2 proposed playground will have themed zones, including a slide zone, sensory zone, swing zone and spin zone.
Hideaway huts, buddy benches, and gathering spots to play and relax will be fun play spaces.
The design will use specific colours and textures for pathways and zones, include a sensory garden full of interesting textured plants and surfaces, accessible waterplay and user amenities such as shade and drinking fountains.