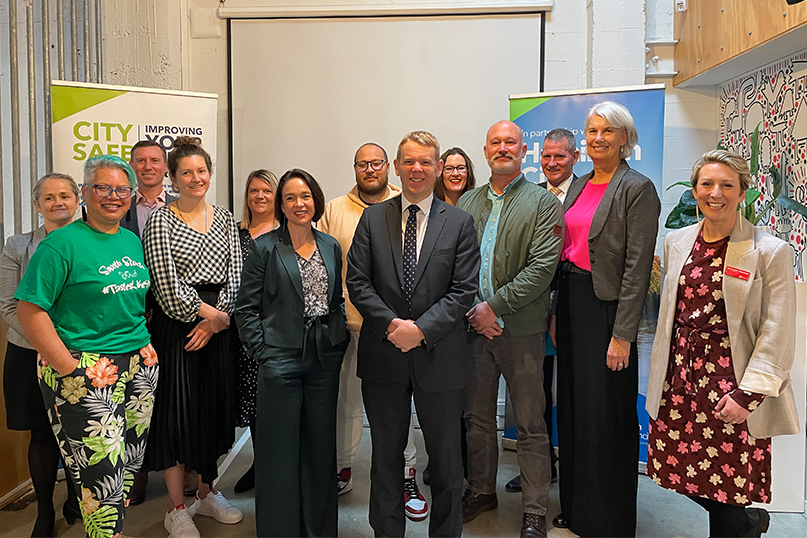 Investment in CCTV technology, youth initiatives and fruit smoothies were on display during Prime Minister Chris Hipkins visit to Hamilton today (7 September).
Hamilton Mayor Paula Southgate hosted the Prime Minister to see first-hand what the $1 million funding partnership between Government and Hamilton City Council has achieved to improve safety in the city.
"Council has an aspiration to build better communities and safer communities," said Mayor Paula Southgate.
"Through our partnerships with Police, community groups, and funding from central government, the city is working hard to improve safety in the city."
The tour started with a meeting at youth centre Zeal to discuss initiatives under way to support at-risk youth – including "Smooth Starts" which provides free smoothies to help combat truancy and get kids to school on time.
"The community groups themselves were able to report back on their programmes aimed at providing our young people with the opportunities they need, in some cases to turn hardship around and make positive contributions to society."
The Prime Minister was also shown the city's state of the art CCTV technology and the expansion of ANPR Camera Network, run by Council's City Safe team.
"This funding is making a tangible difference but there's always more that can be done. It was great to have the opportunity to highlight some of the opportunities to expand initiatives through continued partnerships with Government and other groups.
"With continued investment, we can build a safer and more prosperous future for all Hamiltonians."
There are 14 Council-supported programmes being rolled out in the city to make the city safer in collaboration with other agencies. It includes a range of initiatives from target hardening, infrastructure such as CCTV and licence plate recognition, through to youth mentoring and support.