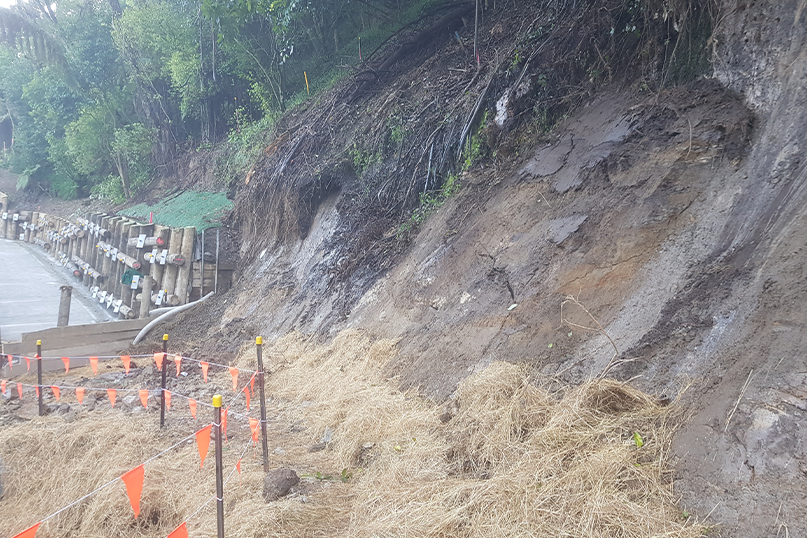 On 1 July a digger tipped over down a bank in the Mangaonua Gully while working on the Hamilton Section of the Te Awa River Ride.
The digger was building a retaining wall when the earth beneath it slipped away causing it to slide down the bank towards the Mangaonua Stream, said Hamilton City Council General Manager Development, Chris Allen.
"Wet winter conditions and a steep and challenging site meant the team were working cautiously in the area. Nobody was hurt as a result of the incident, which is the most important thing," said Allen.
Once the area was secured and Worksafe and Waikato Regional Council were notified, work began to develop a recovery plan for the digger.
"Unfortunately, the slippery conditions and increased rainfalls have delayed the removal of the digger until we can guarantee that it can be done safely.
"We have confidence in our contractor and support their approach to keep people safe and protect the environment. We've also been working closely with Waikato Regional Council to achieve this," said Allen.
Initially the digger did not enter the stream, however the rise in stream levels caused by the heavy rain meant part of it was submerged.
Waikato Regional Council was contacted after the incident first happened and has been kept up to date with the works undertaken to protect the waterways and native habitats within them.
Allen said the team reacted quickly and installed spill kits to stop any oil leaking into the stream.
"When the stream level raised significantly due to recent heavy rainfall, the team installed an oil spill boom – floating physical barrier – to absorb any contamination and stop it from flowing into the stream."
Council is currently working with its contractor to remove the digger safely. This is expected to take place in the next couple of weeks once the rain eases, the stream level decreases, and the conditions aren't as slippery.
Once removed, the team can then continue working towards their goal of completing the final section of Te Awa River Ride in September 2022.