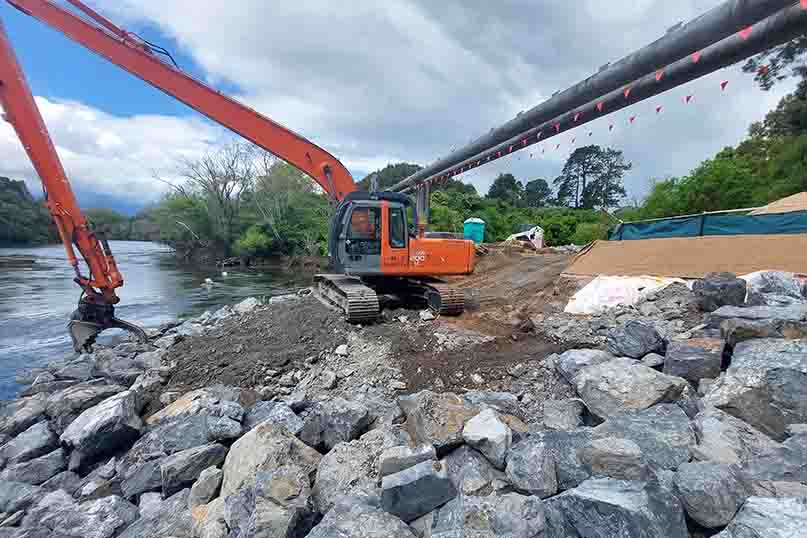 Hamilton's western water supply is no longer at risk, after work to protect a critical piece of water infrastructure wrapped up late last month.
McGuire Drainage and Contracting and Council's Three Waters unit spent seven weeks reinforcing the bank of the Waikato River at the mouth of the Mangakootukutuku Stream, where changes in river level and flow had worn away a section of bank approximately 30 metres long.
The erosion was underneath pipes supplying drinking water to approximately 30,000 properties on the western side of the city, including Dinsdale, Frankton, Rotokauri, and the CBD.
Up to 25 truckloads of material were delivered to the site each day, containing approximately 1100 tonnes of metal and 2300 tonnes of large rock. This rock was then installed carefully along the riverbank and underneath the river level by a long-reach digger, strengthening the bank and reducing any chance of future erosion at the site.
Despite short delays, construction to strengthen the riverbank and combat further erosion was completed under the $1.1M budget initially proposed for the emergency work.
While the work was undertaken, and until the risk to the water mains had been resolved, staff actively monitored the site and had plans in place to mitigate the effects of any damage to the pipes – including modelling the worst-case scenario.
Council's Three Waters Unit Director Maire Porter, said Council used the "in-built resilience of the water supply network and the Eastern Bulk Water Main" to help ensure a continuous water supply for the community, in case of any pipe damage during works.
"Our contractors adapted well to the work site and were able to work within the environmental constraints and restrictions of the site to deliver an outcome beneficial to Council, as well as every property across Hamilton."
Celebrating the project in her report as Chair of Council's Infrastructure and Transport Committee, Deputy Mayor Angela O'Leary said she was "struck by how challenging the site was to work on as well as some of the simplest solutions that were being used to tackle a mammoth problem".
"We are served incredibly well with our team in the waters area and this project is again evidence of that."