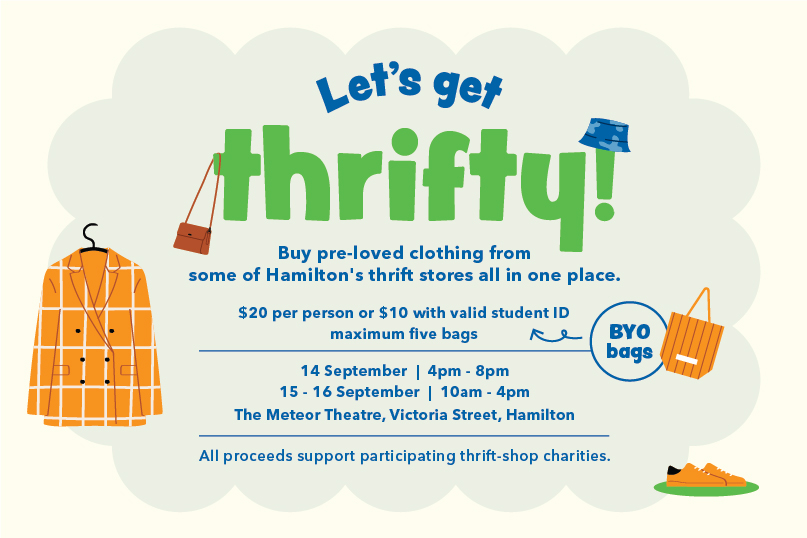 A one-off shopping event in Hamilton Kirikiriroa will help reduce the 950,000kg of clothing Hamiltonians send to landfill each year through their red kerbside bins.
Hamilton City Council has partnered with Go Eco and Hospice Waikato to bring Let's get Thrifty – a one-stop op-shop clothing experience at the Meteor on Victoria Street from 14-16 September.
There'll be a range of pre-loved clothing available for purchase from a selection of local thrift shops. Council and Go Eco are also offering education around how easy it is to repurpose or repair some fabrics.
"When we buy thrifty threads (good from op-shops) we are reducing how much waste we send to landfill and supporting the waste pyramid – guidelines that lead us towards waste reduction rather than disposal," said Tania Hermann, Council's Sustainable Resource Recovery Unit Director.
"We can reduce waste by buying what's already in circulation, reuse by donating gently worn clothing for others to love, and repurpose - turning clothing into quilts, shopping bags or something equally amazing."
Let's get Thrifty is Hamilton's answer to Second Hand September, originally a global Oxfam campaign to encourage reuse, re-wear and restyle.
Reducing waste to landfill is an important goal of Council's 2018 – 2024 Waste Management and Minimisation Plan.
Teresa Bidlake, Hospice Waikato Regional Retail Manager, said partnering with other Hamilton op shops is a wonderful opportunity they are excited to be a part of.
"We are thoroughly looking forward to helping Hamiltonians reduce waste and reuse great pieces of fashion," she said.
"What a fabulous opportunity to move our surplus clothing stock with other charity shops in one space and encourage sustainable fashion in our community."
Let's get Thrifty
$20 per person or $10 for students (with valid ID).
Maximum five bags per person (BYO bags - reusable shopping bag size is recommended).
14 September 4pm – 8pm | 15 – 16 September 10am – 4pm.
The Meteor, Victoria Street, Hamilton.
All proceeds go back to participating thrift shop charities.