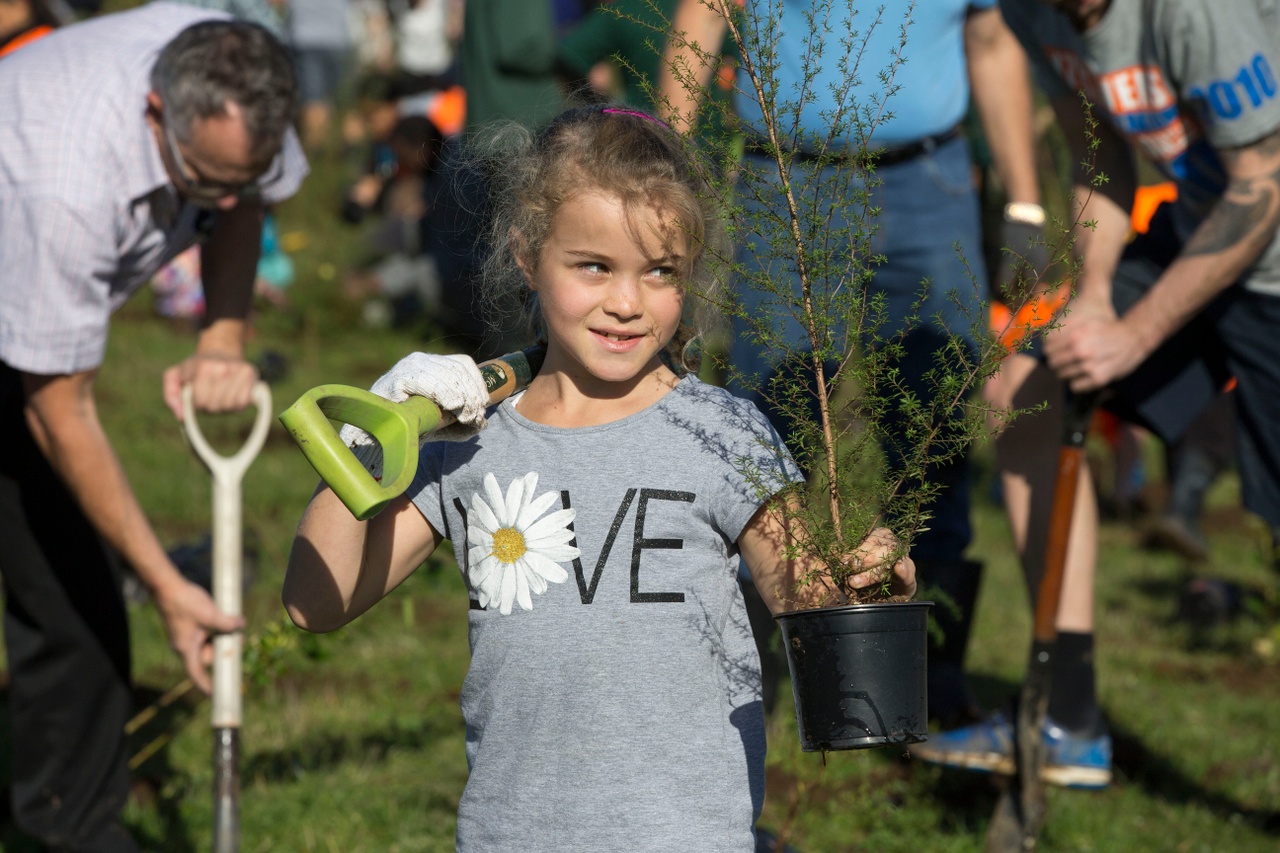 Arbor Day 2023 is coming up, and you're invited. Come along and help Hamilton City Council shape a green city for future generations.
Hamilton's biggest community planting event is back for 2023! Grab your friends, whaanau and workmates, and head down to Arbor Day at Waiwhakareke Natural Heritage Park in Te Kaaroro Nature Precinct on Saturday 3 June between 10am and 2pm. 
With plantings also planned from Wednesday this week, we're aiming to get 17,000 plants in the ground to help restore nature in the city. The Arbor Day planting will contribute to Council's Nature in the City programme which aims to increase Hamilton's native vegetation cover from 2% to 10% by 2050.   
Over the last 17 years, Hamiltonians have planted around 36 hectares of Waiwhakareke, a major ecological restoration project on the outskirts of Hamilton. Building on that mahi, this week another two hectares will be planted by enthusiastic volunteers – that's more than 17,000 eco-sourced native plants! 
Mayor Paula Southgate said she's looking forward to seeing the community come together to help restore nature in the city. 
"I love seeing our community joining together for nature in Hamilton. It's thanks to the efforts of countless volunteers, year after year, that our city has treasures like Waiwhakareke Natural Heritage Park.
"I encourage everyone to come along and take part in Arbor Day – it's a wonderful way to connect with and experience the beauty of Hamilton's flagship restoration project, and lend a hand for nature."
Arbor Day is supported this year with more than $100,000 of funding – $44,000 from Trees that Count and $60,000 from the Lotteries Environment & Heritage Fund. 
Everyone is welcome to come along and plant. The event will go ahead rain or shine unless there's a weather warning from Metservice.
If you have a spade at home, please bring it! Make sure you come well prepared with sturdy, comfortable, waterproof shoes or boots (like gumboots), appropriate clothing for being out in nature, a water bottle and rain jacket.   
If you'd like to come along but can't make it on Saturday, never fear – we'll be planting at Waiwhakareke from tomorrow (Wednesday 31 May) to Friday 2 June, 10am – 2pm, in the lead-up to Arbor Day. 
So, don't leaf us hanging, come on down, do the mahi – get the tree-ts!