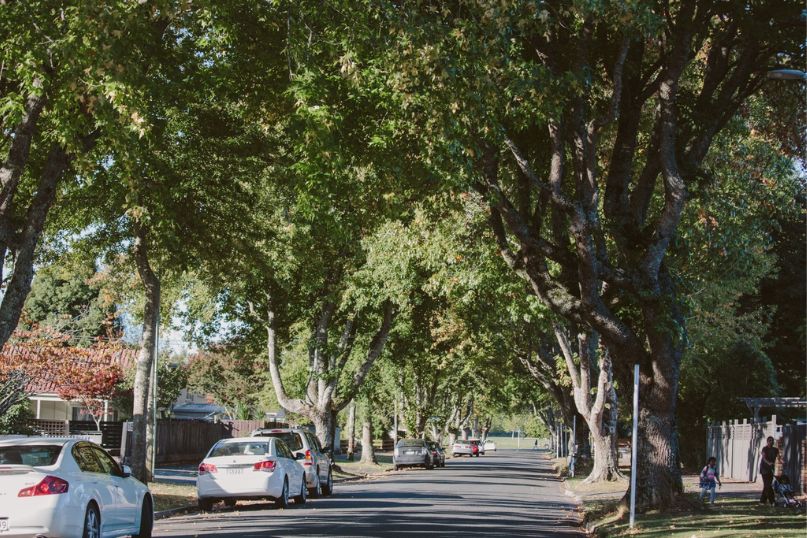 Autumn is here, marking the start of the 400 tonnes of leaves which are expected to fall from Hamilton's array of trees.
Hamilton City Council has arranged sweeper trucks and teams to collect the leaves so they don't block drains and cause flooding, and to make sure paths aren't slippery for those walking and biking.
The Council focuses on known leaf fall hotspot areas, which are checked at least twice a week and swept as needed. Teams also blow leaves on to the road edge for collection at a later time, and clear catchpit grates ahead of or after rain.
Residents in high leaf fall areas are asked to keep cars off the road for the leaf sweepers, and if safe and comfortable to do so, to clear leaves from the top of catchpits and leave them on the grass for collection. Residents are asked to dispose of leaves from their own property.
If a catchpit is blocked or leaves are an issue people can contact the Council's Customer Service team on ph 838 6699, the Antenno app, or email info@hcc.govt.nz for non-urgent requests.
The leaves are taken to the Hamilton Organic Centre for composting.
Streets being swept or blown twice per week:
• Albert Street
• Firth Street
• Hillsborough Terrace
• Kitchener Street
• Norton Road (by Founders)
• O'Neill Street
• Oakley Avenue
• Stanley Street
• Tristram Street
• Thames Street
• Victoria Street (BP to Fairfield Bridge).
Streets being swept or blown once per week:
• Abbottsford Street
• Aberdeen Drive
• Awatere Street
• Azimuth Place
• Banbury Crescent
• Beale Street
• Beatty Street
• Boundary Road
• Boundary Road
• Braid Road
• Brookfield Street
• Caernarvon Street
• Charlemont Street
• Clarkin Road
• Clyde Street
• Commodore Avenue
• Constance Place
• Crosby Road
• Endeavour Avenue
• Fairfield Road
• Flynn Road
• Fox Street
• Fox Street
• Galloway Street/Naylor Road corner
• Garnett Avenue
• George Street
• Gilchrist Street
• Gillies Avenue
• Grantham Street
• Grey Street
• Halcione Close
• Helena Road and Liston Crescent
• Hillcrest Road
• Hukanui Road
• Insoll Avenue
• Joana Place
• Jones Crescent
• Knighton Road
• Lake Domain Drive
• Lancaster Street
• Livingstone Avenue
• Maeroa Road
• Mardon Road
• Masters Avenue
• Memorial Drive
• Oakfield Crescent
• River Road (parts)
• Peachgrove Road
• Plunket Terrace
• Poaka Avenue
• Pulham Crescent
• Puutikitiki Street
• Queenwood Avenue
• Scott Avenue
• Spinnaker Drive
• Strowan Avenue
• Te Aroha Street
• Victoria Street corner Edgecumbe
• Waterford Road
• Wellington Street
• Whyte Street
• Willoughby Street
• Wilson Street
• Woodland Drive
• Young Street.