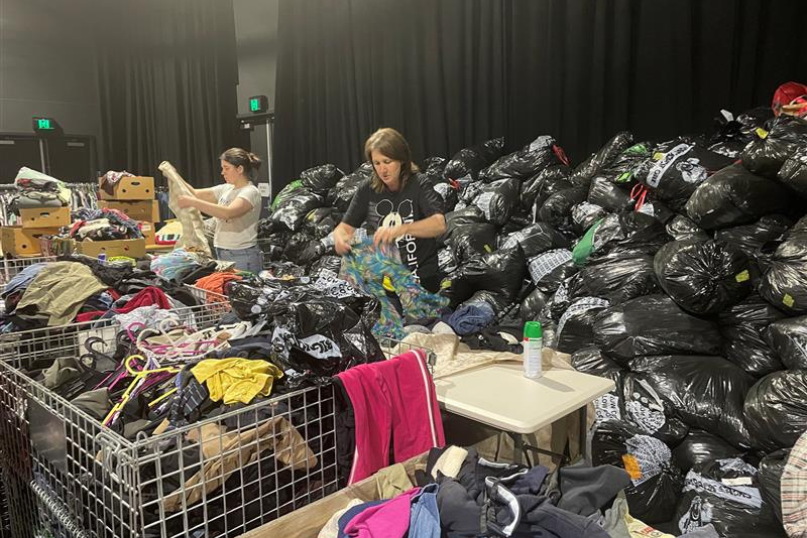 More than 2000 people attended the inaugural Let's get Thrifty event at the Meteor over the weekend to fill their bags with pre-loved clothing.
The event ran from September 14 – 16. By midday Saturday, all of the clothing had been snapped up; raising $20,000, which was shared among the participating thrift stores.
The event, embracing Second Hand September, was a partnership between Hamilton City Council's Sustainable Resource Recovery Unit, Hospice Waikato, Op Shop for Breast Cancer and Go Eco, aiming to reduce the amount of clothing going to landfill. 
Hospice and Op Shop for Breast Cancer collectively brought 1750 bags of clothing, alongside the many items already on hangers. Altogether, Hamiltonians helped keep 12,000kg of clothing from entering landfill.
"Our Hospice Waikato team absolutely loved being part of this huge effort," said Hospice Waikato Regional Retail Manager Teresa Bidlake.  
"We loved watching all the excited people coming through the door, filling their bags and enjoying the atmosphere. Even better, we ran out of clothing," she said. 
Hamiltonians send about 950,000 kg of clothing to landfill each year, contributing to the approximately 180 million kg of clothing New Zealanders send to landfill per year.  
Tania Hermann, Council's Sustainable Resource Recovery Unit Director said there are lots of ways to keep textiles and clothing out of landfill.
"When we shop second hand, we reduce what's already in circulation and we reuse by buying or donating to thrift stores."
"This all helps reduce the quantity of all material going to landfill, supporting one of our action plans in Council's Waste Management and Minimisation Plan," she said.
"Buying quality clothing, being wise about how you wash and dry clothing and following the care labels are all ways to look after what you own."