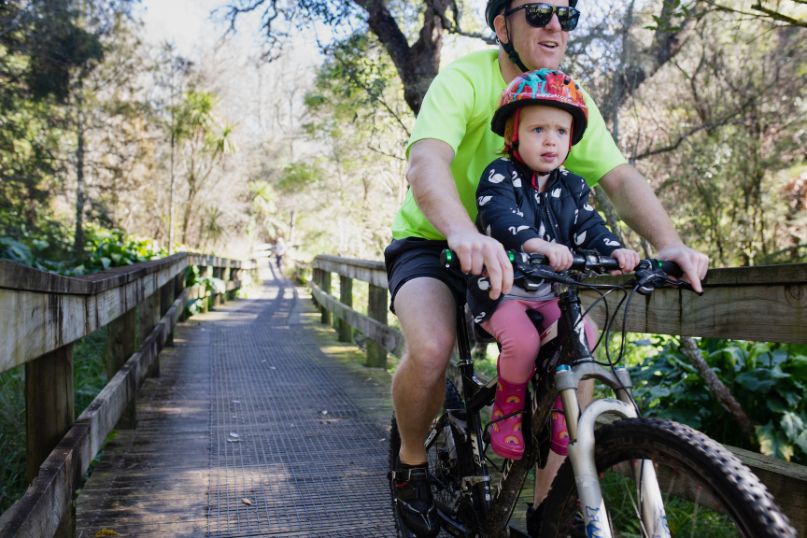 How often do you mix up your mode of transport to get around Hamilton? Just under 20% of all Hamilton car trips are under 2km, that's 72,000 car trips a day.
This September, Hamilton City Council is encouraging residents to mix up their mode of transport.
As an alternative to driving, you can walk 2km in 25 minutes, bike 2km in 6 minutes or travel by bus for 2km in 10 minutes.
"It's spring, the weather is warming up and the days are getting longer," said Council's Transport Education Team Leader Mihi Bennett-Smith.
"It's the perfect time of year to try a different way of getting to work, or taking the children to school."
Trying a different mode supports our Access Hamilton – Ara Kootuitui Kirikiriroa city transport strategy, paving the way for everyone to connect to people and places in safe, accessible and smart ways.
As part of the strategy, we have a vision for the future of transport in Hamilton where everyone is safe and feels safe using our streets and public spaces.
Bennett-Smith said encouraging people to mix up their mode isn't about discouraging people from driving cars but encouraging people to try something new and explore an alternate form of travel one day a week.
"Cars will always have their place, but there's lots of other ways to get around Hamilton. The bus is a great way to catch up on work, read or listen to an audio book and let someone else navigate the city streets."
By taking the bus, scootering, cycling or walking, you can see so much more of the city – and Hamilton Kirikiriroa is such a beautiful place.
"We have shared pathways close to the awa (river) for walking, scootering or cycling. Places you just won't get to see if you are only driving your car to get around," she said.
Mix up your Mode month also embraces World Car Free Day on 22 September. This global movement encourages motorists to take a break from driving and explore alternative modes of transport.
Ahead of World Car Free Day, Hamilton City Council will be holding a World Car Free Day festival in Worley Place by Civic Square on Thursday 21 September, from 11am – 1pm. By coming along to the event, people will be able to get a free bus pass for use on World Car Free Day.