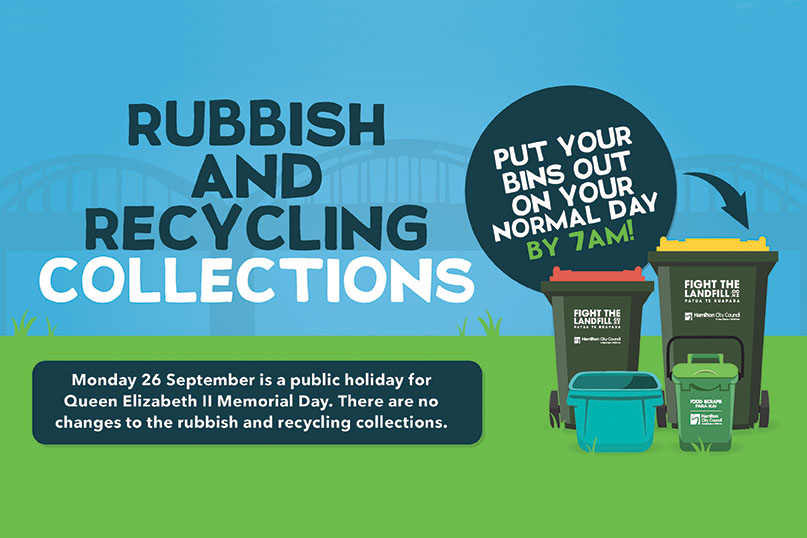 Kerbside services will go ahead as normal for Hamilton Kirikiriroa on Queen Elizabeth II Memorial Day.
While many people will enjoy an extra day off on Monday 26 September, our contractors will be busy, collecting rubbish and recycling as usual.
"If your collection day is Monday, put your bins out as usual by 7am," says Trent Fowles, Hamilton City Council's Rubbish and Recycling Transitional Manager. "If a sleep in is on the agenda, or you have plans to attend a memorial service for Her Majesty Queen Elizabeth II, put them out the evening before so your bins don't get missed."
Fowles said if you do put your bins out the evening before, make sure the food waste bins are locked, with the handle in the upright position.
"This keeps the smells in and the animals out," he said.
For rubbish and recycling facilities on Monday 26 September, the Lincoln Street Resource Recovery Centre will be open from 9am to 4pm, while the on-site Habitat Re-Use Store as well as the Hamilton Organic Centre will be closed. Normal hours for all these facilities will resume Tuesday 27 September.
If you have a missed collection or aren't sure which day your collection is, use the address finder on fightthelandfill.co.nz or download the free Antenno app.
Antenno provides the most up-to-date council notifications direct to your phone, such as collection reminders, and can be downloaded for free from Google Play or the App Store.