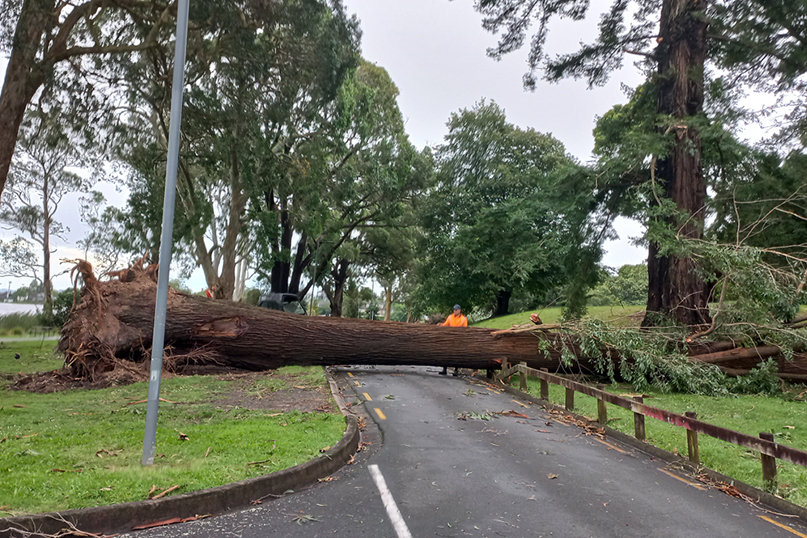 After a night of heavy rain and strong winds in Hamilton, the clean-up is already underway for Hamilton City Council. The city came through better than many parts of the country and our thoughts are with those families and regions which have sustained severe and tragic losses. 
More than 350 calls came into the Council overnight along with 138 emails and 75 Antenno messages reporting issues or asking questions.  
Council's Civil Defence Controller Kelvin Powell said the National State of Emergency has not changed what we're doing on the ground to help our community in Hamilton.  
"Our current focus is cleaning up the damage from last night's wind and rain. Our teams have been working through the night and today to clear trees, fallen branches, blocked drains, cleaning spills and other debris.  
"Some of the larger trees will take time to clear so please be patient, our priority is to make sure areas are as safe as possible for our community. The full clean-up is likely to take weeks. First we have to make sure the area is safe, then any powerlines, roads or buildings are clear before clearing paths and starting the official clean up." 
Council's waters teams have also been out overnight cleaning up pockets of floodwater, repairing overflows and blocked drains, and checking on our gullies and streams.  
"This is expected to continue for the next couple of days as they assess damage and check on key parts of the network. Any work around gullies and streams will begin when water levels are down and it is safe for our teams to do so," said Powell. 
"Our drinking water is safe, but please remember to stay away from floodwaters, streams, and gullies until these levels go down." 
Taitua Arboretum, Hamilton Lake Domain and playground, and Innes Common sportsground carpark are all currently closed, and arborists will be working to clear fallen trees in the coming days.
  
Low-lying river paths and the Matakanohi Reserve Te Awa path (between Ann Street and St Andrews Golf Course) are closed. Sports fields across the city are also closed to practice today.
   
Rubbish and recycling collections have begun again this morning and will continue all week one day later than usual collection days. 


Hamilton Zoo will remain closed until at least until Friday 17 February due to fallen branches and debris around the site. Hamilton Garden's Enclosed Gardens will reopen Wednesday 15 February. 


Waterworld and Gallagher Aquatic Centre will be opening later today, to work on some equipment cut off during some power cuts. Check the Hamilton Pools Facebook Page for the latest update on opening times.  
To report any Council weather-related issues including fallen trees and flooding, use the Antenno app in the first instance or call 07 838 6699. If you have an emergency, please ring 111 and ask for fire.  
To report any power outages or faults, call WEL Networks on 0800 800 935.
For updates on state highways, visit nzta.govt.nz/journeys
For flight information, call Air New Zealand on 0800 737 000.
To keep up with the latest information, follow: