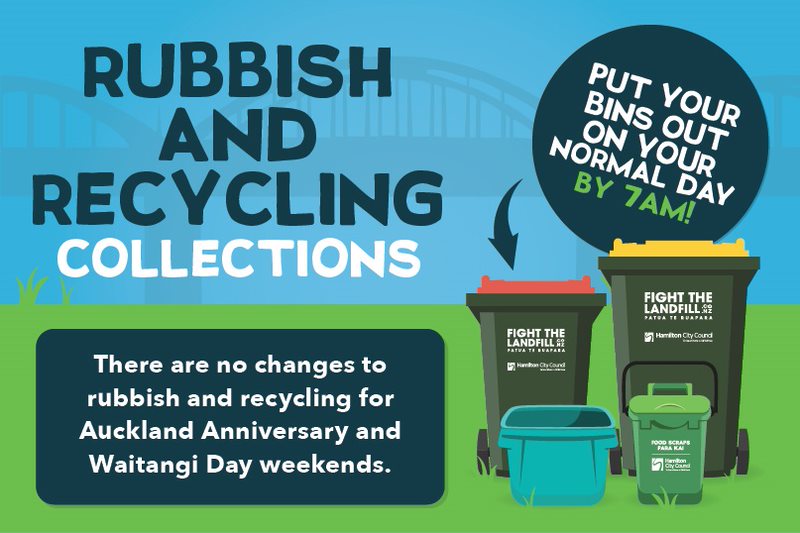 There will be no changes to kerbside collections in Hamilton due to Auckland Anniversary Day (Sunday 29 January, observed Monday 30 January) and Waitangi Day (Monday 6 February).
While many people will enjoy a day off, our contractors will be busy, collecting rubbish and recycling around the city so they can continue to enjoy a two-day weekend.
"If your collection day is normally Monday, put your bins out as usual by 7am," says Trent Fowles, Hamilton City Council's Resource Recovery Delivery Manager. "If you plan to go away, or want to enjoy a sleep in either of those long weekends, put them out the evening before so your bins don't get missed."
The Resource Recovery Centre and Hamilton Organic Centre will remain open on both public holidays, at reduced hours of 9am-4pm, including the Auckland Anniversary Day observed on Monday 30 January.
With people at home more during school holidays and public holidays, rubbish can easily increase.
Using the food scraps bin, yellow recycling bin and glass crate is an easy way for each household to reduce their waste. In November 2022, Hamiltonians saved 320,000kg of food waste, 255,000kg of glass and 599,000kg of recycling from landfill by using the kerbside services.
"Council's Sustainability Resource Recovery unit are pretty passionate about reducing waste to landfill and we love to see Hamiltonians using their yellow bins, food scraps bins and glass crates," said Fowles.
"Just make sure to use each bin correctly. Only use your yellow bin for clean plastics labelled 1-7, paper and cardboard and rinsed cans and tins. This can help ensure what is recyclable, can get recycled, instead of sending it to landfill because it's contaminated with dirty recyclables and rubbish."
Council has an online community resource available for anyone with questions about the city's kerbside services. Find out more about what days your bins should go out or what items should go into each bin and how to reduce waste at work, home or school.