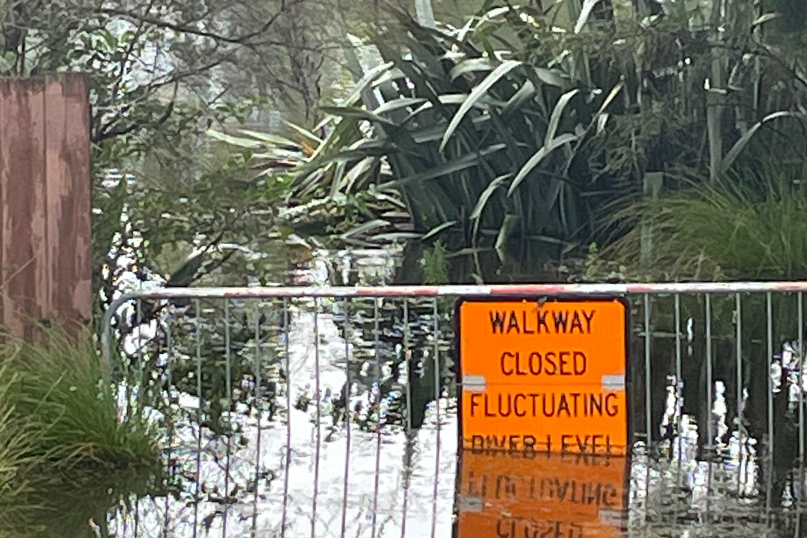 Following the heavy downfalls over the long weekend, some parts of the Waikato River paths are closed due to surface flooding.
These closures will remain in place as the river is expected to remain at higher levels over the next week.
Since the adverse weather began, Hamilton City Council has monitored the situation and is working with Waikato Regional Council which manages river levels with Mercury Energy.
Hamilton Civil Defence Controller Kelvin Powell is confident, while there will be small fluctuations around the increased river levels this week, roads and housing in low-lying areas such as Ann Street and Awatere Avenue are currently safe from surface flooding.
"Please do take extra care along our river paths where they remain open."
"We ask people not to play near the river or swim in it. Waikato River poses many hidden dangers including steep drop-offs, strong currents and hidden objects like tree branches. These dangers increase following bad weather," said Powell.
In response to all the people who have worked tirelessly over the weekend to ensure our city stays as safe as possible during these extreme weather events, Mayor Paula Southgate said a big thank you.
"Thank you to our amazing emergency services, Council staff, and others such as building inspectors, who travelled up to Auckland to assist with assessing flood-stricken areas over the last few days.
"I want to encourage everyone in the community to continue to stay safe, check on your neighbours and loved ones, and always be cautious around any flooded areas."
While some surface water on our pathways is normal following bad weather, if you see paths, parks, roads or boardwalks affected (such as flooding, slips or fallen trees), please let us know. 
Use the Antenno app if you can or call our customer support team on 07 838 6699. Remember though, if you have an emergency, call 111 and ask for Fire.
For more about Waikato River level management visit Waikato Regional Council.
For more information and weather updates, please visit the Met Service.