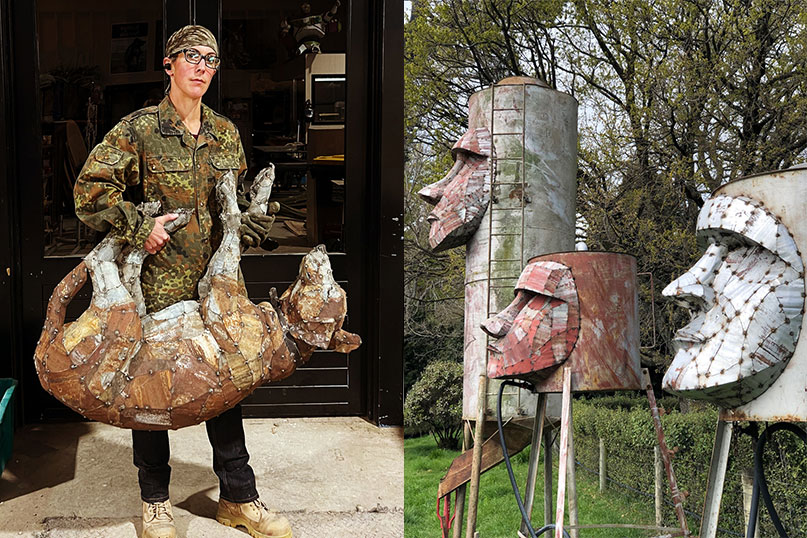 The deadline is looming to enter the Fieldays No.8 Wire National Art Award which challenges artists across Aotearoa New Zealand to transform the iconic agricultural product into inspiring art.
Managed by Waikato Museum Te Whare Taonga o Waikato and supported by the New Zealand National Fieldays Society, the annual competition will close its call for entries at 1pm, Friday 14 April 2023.
Now in its 25th year, the Fieldays No.8 Wire National Art Award has seen decades of artistic innovation as both established artists and newcomers manipulate the infamously difficult wire into stunning works of art for sale.
A blind-judging process keeps entrant identities confidential, enabling the guest judge to focus solely on the art. A digital judging platform is used to review photos and select the finalists, who are competing for their claim to a share of $8500 in prize money.
In 2023, the entries will be judged by sculptor Hannah Kidd. Based in Methven with iwi affiliations to Ngaati Toa, Kidd is renowned for her large-scale constructions made of welded steel. She graduated in 2001 from the Otago Polytechnic School of Art with a Bachelor of Fine Arts majoring in sculpture, and her distinctive work has been exhibited around the world.
The winner of the 2023 Fieldays No.8 Wire National Art Award will receive $7,000, with prizes of $1,000 for second place and $500 for third. Further prizes are also awarded for People's Choice and President's Choice.
The award culminates in a month-long exhibition at Hamilton's ArtsPost Galleries & Shop, opening this year on Friday 26 May. The free exhibition will overlap with Fieldays, the Southern Hemisphere's largest agricultural event, which will be held 14 to 17 June at Mystery Creek.
To read the Fieldays No.8 Wire National Art Award competition criteria and access the entry form, go to www.waikatomuseum.co.nz/no8wire.
Fieldays No.8 Wire National Art Award - 2023 timeline:
Entries close: 1pm Friday 14 April 2023
Finalists notified: Week of 24 April 2023
Winners announced/award ceremony: Thursday 25 May 2023
Exhibition open: Friday 26 May – Sunday 2 July 2023
Venue: ArtsPost, 120 Victoria Street, Hamilton. Open daily 10am – 5pm, free entry.
Please note:
For te reo Maaori, Waikato Museum uses double vowels (uu) in place of vowels with a macron (ū) to represent a long vowel sound. This spelling approach is the preference of tangata whenua in Hamilton Kirikiriroa and Waikato iwi for te reo Maaori words. Artists' titles are shown in their original form.