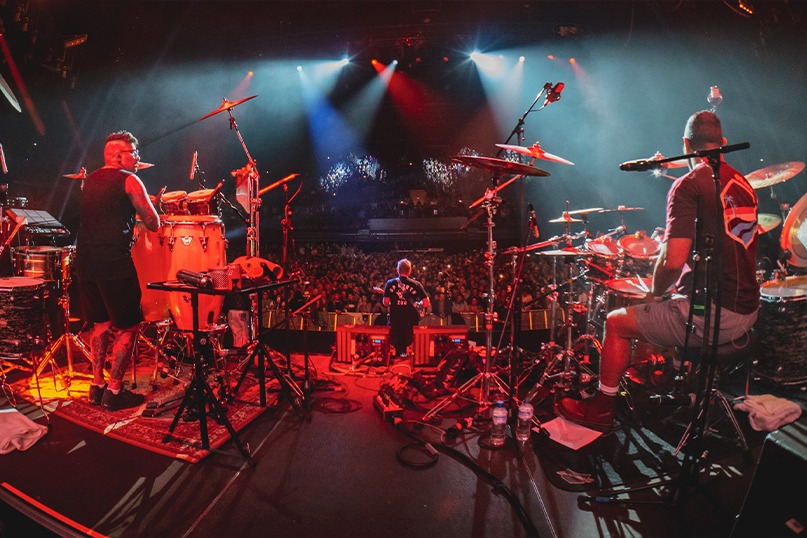 Hamiltonians were treated to a massive weekend of entertainment at Claudelands, with three different events taking place at the venue on Saturday alone.
Among the line-up was one of the biggest names in New Zealand music, L.A.B, who performed at GLOBOX Arena, Claudelands on Saturday night.
L.A.B Manager Mikee Tucker says he was thrilled with how the event went and how it was received by the Hamilton crowd.
"Thousands of music fans filled GLOBOX Arena, Claudelands on Saturday night to hear L.A.B perform alongside supporting acts JessB and Masaya. Three sell outs in three years at this awesome venue and every time Hamilton brings the energy," he says.
Earlier on Saturday in Claudelands' Heaphy Rooms, over 40 bands competed in the Waikato Heats of Smokefree Rockquest, while in the venue's Exhibition Halls large crowds attended the two-day Waikato Baby Expo held across the weekend. Sunday morning also saw the weekly Hamilton Farmers' Market take place in The Barn, located on site at Claudelands.
H3 Event Delivery Manager Michael Gilling says he is extremely proud of the team, along with partners Montana Food & Events, Spotless and Red Badge, for their efforts in delivering all these events in such a short space of time.
"While our venue has been designed to be able to host multiple events like this at the same time, it can still be challenging from a logistical and resourcing point of view and requires a big effort from the team to deliver these back-to-back events. I'm extremely proud of the way our team rose to this challenge – planning and preparing for a big weekend, and all pitching in to deliver all of these events to an exceptionally high standard".
Gilling says the achievement is even more satisfying considering the challenges of the past couple of years during Covid-19.
"Having to close our doors for a while was incredibly difficult for our team as delivering events is what we love to do, and we all get a real kick out of seeing the public having a really good time at our venues. It's great to now see our calendar of events filling up again and to welcome back the likes of L.A.B who always put on a fantastic show for audiences to enjoy," he says.
Other significant events coming up at Claudelands in the coming weeks include The Great New Zealand Food Show on 16-17 July at the Claudelands Events Centre, Sticky Fingers on 11 August, The Wiggles on 20 August and the New Zealand Darts Masters on 26-27 August, all at GLOBOX Arena.
"To have this calibre of events taking place in Hamilton is something the city should be really proud of, and we encourage everyone to get along to experience them for themselves," says Gilling