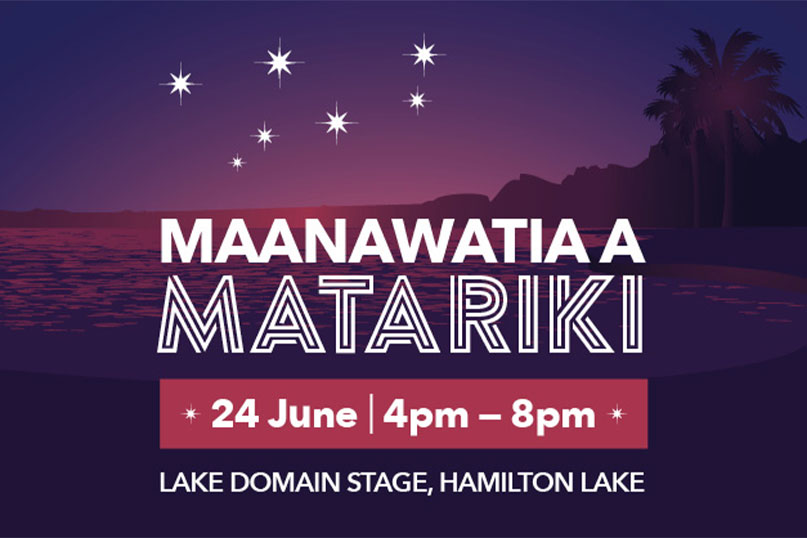 The sighting of Matariki signifies a time for people to come together, celebrate new life, remember those who have passed and look ahead to the future.
To honour Matariki in style, Hamilton City Council and Matariki Ki Waikato have a range of events happening across the city.
There's something for everyone, from education to entertainment over June and July to see in our Maaori New Year – Te Maatahi o te Tau. There's also a free event at the lake to celebrate our first public holiday with kai, live music, kapa haka and more.
All events are a chance to learn and reflect on the significant way Maaori Tuupuna (ancestors) viewed Matariki for harvestings and how Maaori follow the lunar calendar. Here's a breakdown of what's happening in the city:
Maanawatia a Matariki at Kirikiriroa Lake Domain
It's fresh, free and for the whole family to gather under the stars with kai and great local artists at a new event, Maanawatia a Matariki.
Rally your whaanau and friends to celebrate the rising of the star cluster Matariki that marks our Maaori New Year.
Hamilton Kirikiriroa Lake Domain Stage
Friday 24 June 4pm – 8pm
Maanawatia a Matariki will feature performances by kapa haka group Te Pou o Mangataawhiri, funk-soul band Late 80s Mercedes, Jaqi & Jade and Kyla Greening.
There'll be:
taraka kai (food trucks)
taa moko and face painting
range of activities that includes lights and stars for tamariki (children) to enjoy
and more.
Matariki at the Museum
This year's Matariki programme at Waikato Museum celebrates wellbeing from the perspective of te ao Maaori (the Maaori world view).
Join the team on Saturday 9 July from 10am – 4pm for a day of free family events and activities, including a panel discussion with contemporary Maaori artists featured in the exhibition Toi is Rongoaa.
Matariki at Hamilton City Libraries
Our libraries have partnered with Te Whare o Te Ata – Fairfield Community House, and they're celebrating Matariki by hosting a range of fun family and child-friendly activities such as stargazing, painting and Maaori kite making. Check out their website to find out what's happening where and to learn about the seven stars of Matariki.
Hamilton Gardens
Maramataka expert and Tainui star lore specialist – Piripi Lambert shares his knowledge of Matariki, the traditions, stories and cultural practises significant to the Waikato. Followed by a walk to Te Parapara Garden to view the stars (weather permitting). Join in at the Chartwell Room at the Gardens on Thursday 23 June, 30 June and 14 July between 7pm – 9pm. This is a free event but booking via the Hamilton Gardens website is essential.
The Hamilton Gardens Cafe is also on board, dishing up Matariki-themed kuumara-based dishes available throughout the month of Matariki (while stocks last).
Hamilton Zoo
The Zoo team has several events on to celebrate Matariki this year. Hamiltonians can join the "Follow the Stars" scavenger hunt for a month from 17 June, finding and learning about the seven stars of Matariki positioned around the Zoo. Learn about the Matariki constellation as you locate each star and you could win a Hamilton Zoo family annual pass. A day of fun will be held on 24 June, with flax weaving, music and living statues on offer from 11am – 3pm.
Hamilton Zoo's new café, Everyday Eatery, is also joining the festivities with Matariki-themed dishes on offer.
Matariki ki Waikato
Endorsed by Te Ohu Whakaita Trust, the Matariki ki Waikato Working Group was formed to bring together a variety of organisations across the Waikato region to raise awareness around the Celebration of Matariki.
Find out about all the events happening across the Waikato on the Matariki Ki Waikato website.