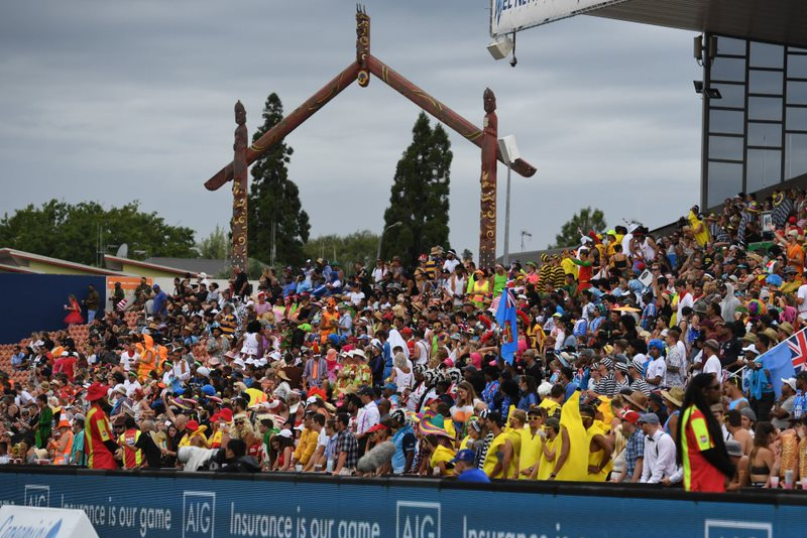 Hamilton Kirikiriroa has a healthy calendar of big international events over the summer, with HSBC NZ Rugby Sevens and FIFA Women's World Cup™ Play-Off Tournament set to be the sporting highlights.
Kicking off this weekend (Saturday 21 January) is the final Sevens tournament to be held in Hamilton and New Zealand altogether.
After the event's two-year hiatus, Deputy Chief Executive and General Manager of Venues, Tourism, and Major Events, Sean Murray, hopes the crowd embraces the excitement this event offers our city and sends it off with a bang for its last hurrah.
"There's a lot of history with the Sevens, the atmosphere and the world class entertainment it provides. We're expecting big, adventurous crowds and of course the fantastic costumes that have become a staple."
"Events lift people's spirits, so we're excited to host so many this year. The value in exposure of our city and region they provide is priceless."
Amongst the sporting events, the K'aute Pasifika Village is due to host its official opening today (Tuesday 17 January 2023). The Village includes an iconic fale (meeting house) located on Mill Street opposite FMG Stadium Waikato. The oval-shaped fale will become a new landmark for Hamilton Kirikiriroa.
With its distinctive curved roof, the fale will be the centrepiece of New Zealand's first Pacific Village setting. With many HSBC Seven's teams from the Pacific, the fale will be celebrating its first week open by hosting the captain's photo on Wednesday 18 January. Waikato-based Pacific Island community trust K'aute Pasifika will also hold a series of community events celebrating New Zealand's Pacific cultures before the tournament.
A slice of HSBC NZ Sevens action is coming to Claudelands, with Gourmet in the Oval – Sevens Edition taking place on Friday evening (20 January). This event will see the much-loved Gourmet in the Gardens relocate to Claudelands Oval for one evening only, to act as the perfect curtain-raiser for HSBC NZ Sevens. All Sevens teams will be in attendance for a parade of nations.
The event organisers encourage you all to round up your friends and whanau and head along from 4.30pm to enjoy epic eats, live local entertainment, spot prizes and the chance to meet men's and women's World Rugby Sevens players. Find out more about this free event.
The FIFA Women's World Cup™ Play-off Tournament is taking place from 17 – 23 February 2023 in Hamilton Kirikiriroa and Auckland Tāmaki Makaurau. This tournament will see 10 teams from across the world compete for the final three qualifying spots in the FIFA Women's World Cup 2023.
The Football Ferns will also play a series of friendly games throughout the week-long tournament in Hamilton, one of which will be against Argentina.
Hamilton Kirikiriroa welcomes Cameroon, Thailand, Portugal, Chinese Taipei and Paraguay, as well as some countries that will be determined from the outcomes of early matches. The winner of the clash between Cameroon and Thailand will go on to play Portugal, filling the final qualifying spot in the tournament, going on to play in Hamilton against Vietnam.
Tickets for the FIFA Women's World Cup 2023™ Play-Off Tournament will go on sale Tuesday 17 January 2023.
A friendly reminder that a temporary alcohol ban is in place around FMG Stadium Waikato for the duration of the HSBC NZ Sevens tournament. It is an extension of the usual Hamilton alcohol ban, which prevents people from consuming alcohol on the street or in public parks.