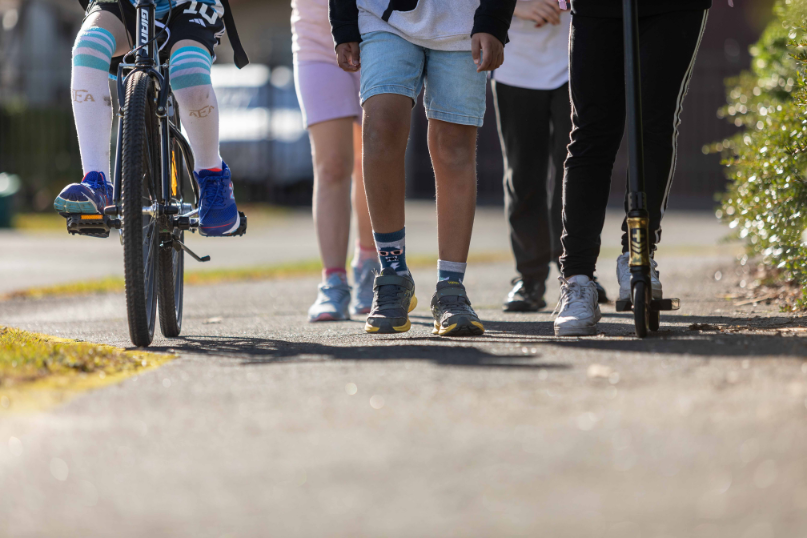 More than 1000 cars remained parked at home, as Hamiltonians chose to use foot power, the bus or pedal to get around Hamilton on World Car Free Day.
Hamilton City Council had a goal to decrease car trips by 1% on World Car Free Day.
Through traffic counters at intersections, we recorded a 0.3% decrease in car trips across Hamilton through the morning and a 1.3% decrease between 3pm - 5pm, compared to the previous Friday.
That's a decrease of 1200 car trips.
"The rain may have put people off leaving the car at home in the morning, but then chose to go car free do the afternoon school run," said Council's Transport Education Team Leader, Mihi Bennett-Smith.
"Any decrease is exciting to see – it means people are happy to give being car free a go."
Hamilton has over 138km of road cycle lanes, 80km of shared paths and 96km of shared parks and reserve paths to enjoy by bike, on a scooter or on foot.
"We're passionate about encouraging Hamiltonians to embrace the many shared pathways or buses available in Hamilton," said Bennett-Smith.
"Getting out and about on foot – or by pedal power – really improves your well-being and it's also healthy for the planet too. Taking the bus allows you to de-stress while someone else does the driving."
Bennett-Smith said she hopes people who explored an alternate form of transport for World Car Free Day will continue to try to go car free one day a week.
"We know for many people, driving is the only way they can commute, and that's okay. But if you have other ways to get from A to B, why not try it regularly. It's a small way you can do your part for the planet."
On Thursday, 21 September, the day before World Car Free Day, Hamilton City Council and Waikato Regional Council held a World Car Free Day event in the shared space on Worley Place by Hamilton's Civic Square.
The organisations partnered with Go Eco, River Riders, Electrify NZ, Ride your Trike and Friends, Bike Waikato, Doing Pennants and The Mobility Centre, to give Hamiltonians the opportunity to learn about the different ways to explore Hamilton as well as having some fun.
The event combined with Parking Day, a global project where carparks are utilised as social spaces. Arts for Health, Free Lunch Theatre, Boon Arts, and Riff Raff Trust each took a carpark along Worley Place and provided fun activities for the public.