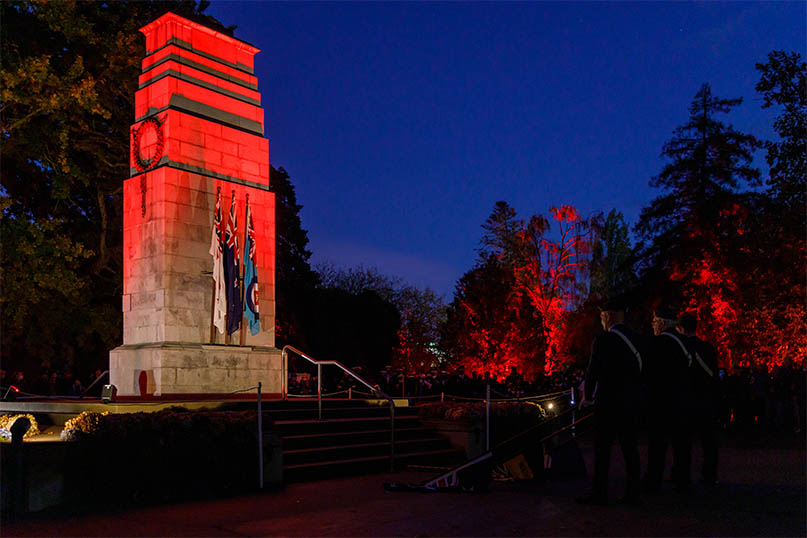 On Tuesday 25 April, Hamiltonians of all ages will once again gather in silence to honour fallen and returned servicemen and women – a tradition passed down the generations for more than 100 years.
Hamilton's 2023 Anzac Day commemorations at the Memorial Park Cenotaph will begin with the dawn service at 6am, followed by the civic service at 10am. Event and parade details on our website at hamilton.govt.nz/anzacday – both events will go ahead regardless of weather conditions.
Large screens will be placed at each end of Memorial Park so people are able to easily see and hear the commemorations from around the park. The services will also be livestreamed so those who cannot attend in person can watch from home.
Both services will be MCed by NZ Army Reservist officer Lieutenant Colonel Olly Te Ua. Te Ua was the commanding officer of 3rd/6th Battalion Royal New Zealand Infantry Regiment, the reserve battalion based in NZ, and is now a Maangai Maori representative for Hamilton City Council.
Te Ua's great-grandfather served at Gallipoli from June to August 1915. In 2018, Te Ua represented New Zealand and the NZ Defence Force as the contingent commander at the Anzac services at Chunuk Bair.
Mayor Paula Southgate, who will speak at the civic service, says sharing the Anzac Day experience is vital to keep our history alive.
"I love to see young people and young families attending Anzac services. Sadly, we now have only a few surviving WWII veterans, so our link to the past lives on through sharing stories."
Mayor Southgate says while Anzac Day is about remembering the past, the current conflict in Ukraine is a reminder that war is a constant. "That's why it's so important that we pass the baton to our youth to continue to remember, to commemorate, and to uphold the adage: Never again!"
The guest speaker at this year's civic service will be Cadet Warrant Officer Class One Shane Marwood, who was named New Zealand Cadet Forces Cadet of the Year for 2022.
The dawn parade will assemble at the corner of Victoria Street and Anzac Parade at 5.30am for a 5.45am march.
A limited number of disabled car parks will be available close to Memorial Park – please email events@hcc.govt.nz if you require disabled parking. If you have known medical conditions or are at high risk, please take precautions to ensure your own safety on the day, especially getting to the dawn service in the dark, or stay home and watch the livestream.
More details about the event, including the parades, and road and boat ramp closures are on our website at hamilton.govt.nz/anzacday – the link to the livestream will be made available on the day.