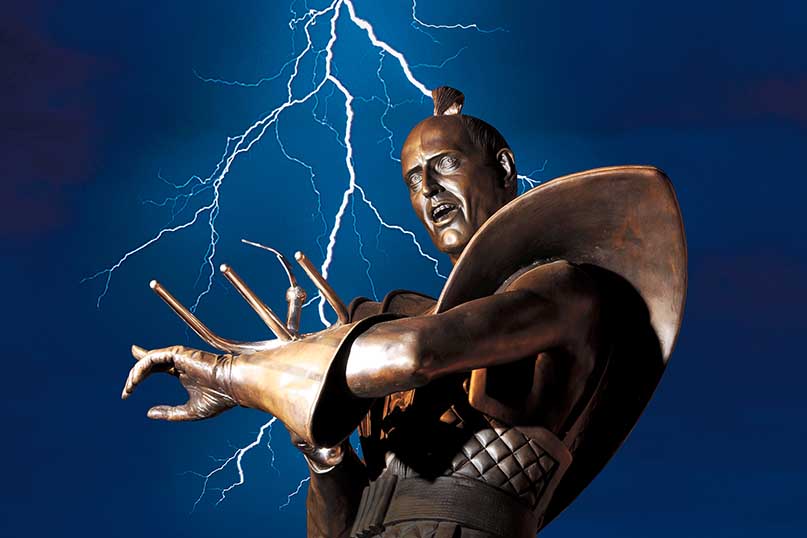 Hamilton's iconic Riff Raff Statue is set for a scrub and a facial.
The famous bronze statue of The Rocky Horror Show character stands in Embassy Park on Victoria St, at the site of the cinema where the comedy-horror-musical's creator Richard O'Brien found inspiration for the cult stage and screen classic.
A gift to the city from The Riff Raff Public Art Trust, the statue is one Hamilton's most celebrated and popular pieces of public art, and was created by Sir Richard Taylor's Weta Workshop. It resulted from a collaboration between the Trust and Hamilton City Council.
Waikato Museum is responsible for the ongoing management of the statue, and Collections and Exhibitions Manager Steve Chappell says the upcoming work on Riff Raff is part of the Museum's programme of public art maintenance.
"Riff Raff has now been in place for 15 years, and he's showing some discolouration and scaling, as well as the dirt and grime from being out in the elements for more than a decade," Mr Chappell says.
"We've commissioned one of New Zealand's leading art conservators, to clean up Riff Raff and give him a sprinkling of stardust."
The cleaning will see Riff Raff completely washed to remove dirt and grime, before a special chemical treatment is used to remove the more stubborn scale and gunge on the statue. He will then be given a new wax coating used on bronze.
"I hope they don't miss the back of the neck and behind the ears," says Mr O'Brien.
Throughout the two-day cleaning operation, Riff Raff will be covered and out of view of the public – so he won't be available for the photographs and selfies frequently taken by visitors to the city.
The Trust maintains the statue's online presence and continues to creatively redevelop Embassy Park around it, and welcomes the Museum's maintenance work.
"We're looking forward to Riff Raff being buffed and shiny again," says Trust Chairperson Mark Servian.
"Our beloved bronze-man-in-fishnets tells the world Hamilton is a diverse and cosmopolitan city that is home to freaks and creatives of all persuasions, so he needs to be as polished and glam as possible!"
Riff Raff's facial and scrub begins on starts on Tuesday, June 4. The Riff Raff camera, which monitors the site, will capture the work and it can be viewed via www.riffraffstatue.org