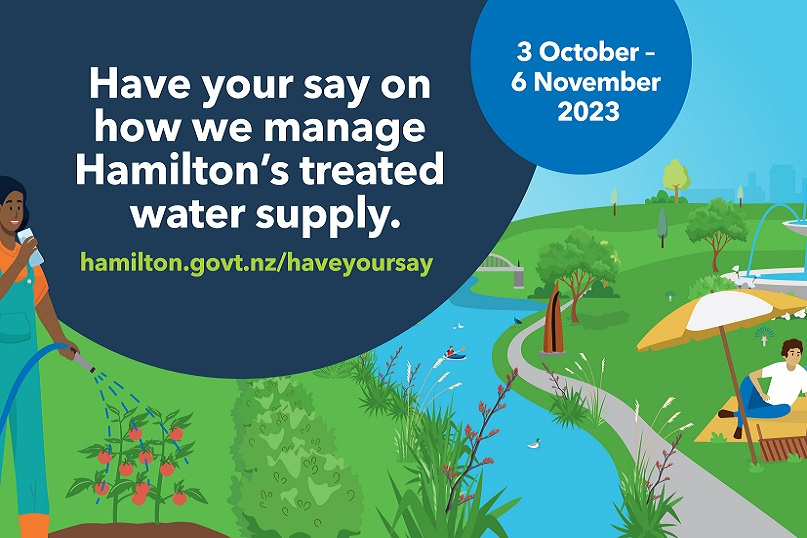 When you turn on your tap, have a shower or water the garden, have you thought about how that water supply is protected to ensure its quality?
Hamilton City Council is asking for feedback on the proposal to continue its Water Supply Bylaw with some minor changes.
Ten years after it was last adopted, the Water Supply Bylaw is up for review and was approved for public feedback at the Infrastructure and Transport Committee meeting on 21 September 2023.
The Water Supply Bylaw aims to maintain and protect the city's treated drinking water from contamination or misuse, ensuring the community has consistent access to a good-quality water supply.
It provides clear guidelines for how Council should maintain any pipes or pumps used for the distribution of drinking water, as well as the Waiora Water Treatment Plant and the processes used to draw and treat water from the Waikato River.
It also sets out community responsibilities around misuse of water, overuse, or maintaining a water supply for their property or business if the city-wide water supply needs to be stopped for any reason.
Council is required under the Local Government Act to regularly review all bylaws to ensure they are fit for purpose.
"Reviewing the Bylaw gives us a chance to make sure it's working as well as it can. It also gives us the opportunity to hear from our community who use our water daily, and make sure the Bylaw reflects the infrastructure we have around the city," said Council's Three Waters Unit Director, Maire Porter.
"Under the Government's Three Waters Reform, our bylaws around the management and provision of water supply, trade waste and wastewater, and stormwater services could be managed differently in the future.
"Until any change occurs, we have a responsibility to provide three waters services for our community, and we must ensure we have the right guidelines in place to manage water supply effectively."
Following early conversations with mana whenua and nearby Councils, the Infrastructure and Transport Committee determined the Bylaw is still fit for purpose, with some minor changes to align the Bylaw with other legislation and reference Te Ture Whaimana o Te Awa o Waikato – the vision and strategy for the Waikato River.
We want to know what you think about our proposal to roll the Bylaw over, with minor changes.
To have your say, you can:
provide feedback online at hamilton.govt.nz/haveyoursay
pick up a hard copy at the Council office (260 Anglesea Street) or any Hamilton City Libraries branch.
Consultation on the Water Supply Bylaw closes on Monday 6 November.