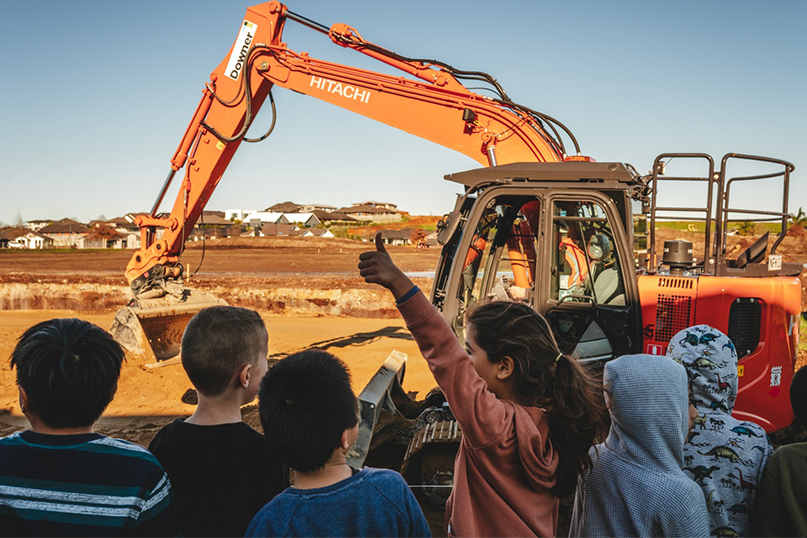 From diggers to dump trucks and everything in between, it was all on show for Te Ao Mārama School students at Hare Puke Park last month.
As part of Hamilton City Council's commitment to shaping a fun city with lots to do, construction work is underway on the basic development of three parks in the Rototuna area, including Hare Puke Park, which is located right next door to Te Ao Mārama School, giving students the perfect view of our team out doing the mahi.
Te Ao Mārama School student Blaire (7) has always had a keen interest in diggers and last week she and her fellow students got up close and personal as they ventured outside their classroom to watch one working at the park.
Once complete the basic development of the parks will provide more useable accessible spaces for the community and allow for more regular mowing and maintenance. Work will include ground levelling and re-sowing with grass, as well as path connections.
Blaire was one of the 275 students who got to chat with Downer's Project Leads, Liam Bartholomeusz and Sam McHugh, and see some machines in action. After an overview of the work happening, students were shown the functions of the machinery used and encouraged to ask questions about them and the project as a whole.
Spending time watching the diggers work was a real highlight for most students. Blaire said she loved watching the digger dance and do tricks.
"It was so cool when it lifted it's back wheels up and all of the dirt came out," Blaire said. "I didn't know diggers could move around so much!"
After seeing students enthusiastically watch the action from the classroom window and school field since the start of the project, the teachers were pleased to be given the opportunity to get up close and personal with the big machinery.
Whaea Sarah said her pupils really enjoyed the visit and were able to learn about how the work will benefit them.
"Many students related the works to what their parents do (in similar roles) and some were inspired by what they might want to do when they're older."
Whaea Sarah shared that her class were able to bring the learning back into the classroom and went on to do factual and opinionated writing about the works.
Principal Tony Grey is a huge advocate for learning outside the classroom and appreciates how 'real-world' learning increases student engagement.
"We'd like to thank Downer and Hamilton City Council for organising the visit. I know the students are looking forward to getting out and using the space."
Downer were awarded the contract to do the works and are expected to finish construction on the park by summer 2021. Find out more information at hamilton.govt.nz/rototuna