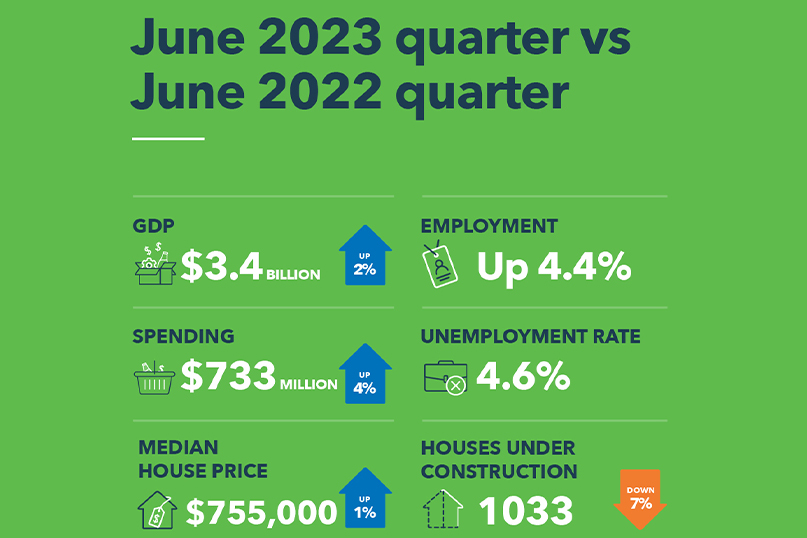 Hamilton's hospitality sector received a timely boost from major events as the city continued to outperform the national economy.
Hamilton City Council's latest Quarterly Economic Update reveals the city's economy grew almost 4% in the year to June, above the national rate of 3.1%.
Job numbers were up 3.1% in Hamilton while annual spending increased 12%.
Councillor Ewan Wilson, who chairs the Economic Development Committee, said the Quarterly Economic Update gave an unrivalled insight into how Hamilton's economy was performing.
"A lot of small and medium sized businesses just don't have the time or resources to do the level of data collection and analysis we do.
"By sharing this information, Council can help businesses make decisions and inform them of possible trends in what is a complex environment," Councillor Wilson said.
Economics and Policy Programme Manager Tiki Mossop said the increase in card spending was well above the rate of inflation and was "somewhat surprising" given efforts by the Reserve Bank of New Zealand (RBNZ) to curb spending.
"During the June quarter, spending did ease but, overall, the picture was very good. We had Fieldays return to its midyear slot and the Chiefs rugby team hosted their play off games and the final in Hamilton. This all injected money into the economy that we didn't have last year."
Card data shows spending on hospitality and accommodation increased 28% in the year to June, providing a boost to city operators.
Hamilton's economy also benefited from international tourism as overseas visitors spent $13 million in the city during the June quarter - $5.6 million more than a year ago.
However, Hamilton households continue to be squeezed by inflation, with the cost of living rising 7.2% for the average household in the 12 months to June. A major driver of those increased costs were food prices, up 12.7%.
"Mortgage interest rates have been increasing and prices for goods and services keep going up and that all puts households under pressure," Mossop said.
"New Zealand had a technical recession [two consecutive quarters of negative GDP growth] this year and for a lot of people it will still feel like we're in a recession. Indicators suggest New Zealand will see little, if any economic growth in the coming months."
While industrial consenting remains strong in Hamilton - finishing the financial year with 153,500m2 of new floor area granted - residential consenting has slowed.
Only 101 residential consents were lodged in May and June this year.
"Lodged consents tell us what is coming down the pipeline and it's clear from those numbers that the pipeline is drying up," Mossop said.
For the most part, house prices stopped falling in the June quarter, the first time since the end of 2021. Homes in Hamilton's new suburbs sold for a median price of $950,000 – an increase of 1.6% on the March quarter. The median price for a home in the city's existing suburbs declined $10,000 to sit at $700,000.