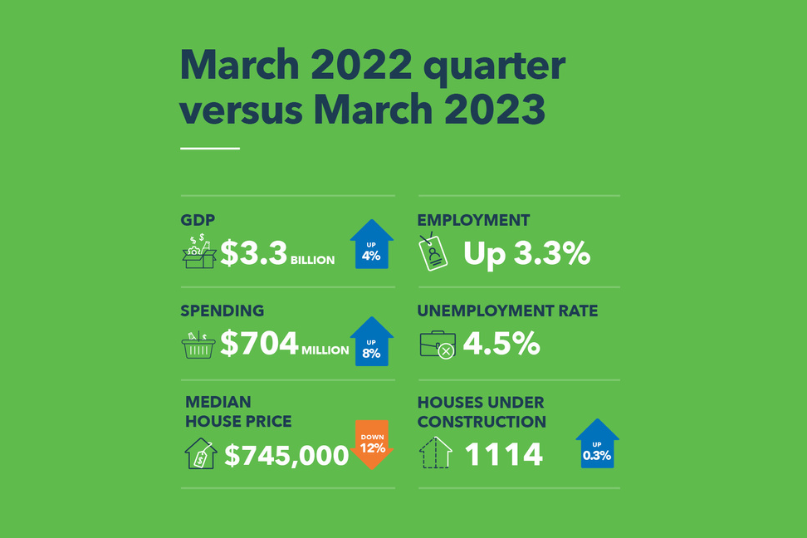 Hamilton businesses continue to grow and job numbers are up, despite some employers taking a wait and see approach to investing.
Hamilton City Council's latest Quarterly Economic Update has been released and gives a snapshot of the city's economy during the March quarter.
The new data reveals Hamilton's GDP grew by 3.8% in the year to March, while employment was also up 3.3%.
Economics and Policy Programme Manager Tiki Mossop said the increase in Hamilton's employment figure outstripped all other metros.
"The growth of Hamilton's GDP was the second strongest among all the metros and again highlights the underlying strength of our economy.
"Hamilton's economy is pumping along but we have to be prepared that in the comings months things could change."
Spending reached $704 million during the March quarter, an increase of 8% on the same period last year.
Inflation and the rising cost of living, coupled with high levels of employment, has pushed people's spending up.
In the 12 months to March, overall card spending was up 12%. A break down of the data shows spending on groceries and alcohol increased 26% and retail spending was up 12%.
Spending figures for the next six months should be positively impacted by the hosting of major events, Mossop said.
"The unexpected bonus of the Chiefs' home quarter, semi and final games brought much needed spending into Hamilton's economy. The upcoming FIFA Women's World Cup will also be positive for the city, particularly our accommodation and hospitality sector."
Data showed residential consenting, house values and commercial vehicle registration numbers all declined during the March quarter.
"The fall in commercial vehicle registration gives us an insight into how businesses are feeling at the moment. The fact some businesses are not replacing their vehicles indicates they're taking a wait and see approach before investing," Mossop said.
Non-residential consenting continued its upward trend, with 38,900m2 of industrial floor space consented during the March quarter.
The development of the Ruakura Superhub helped drive those strong figures and added to the supply of industrial land in the city.
Nearly 13,700m2 of new commercial space was consented during the same quarter, one of the highest quarterly figures since the start of the COVID-19 pandemic.
Despite the resilience of the city's economy, many households are under financial pressure due to rising mortgage repayments and inflation, Mossop said.
"A lot of homeowners have not yet moved to those higher interest rates, so we haven't yet seen the full impact of those rates hikes flow through."