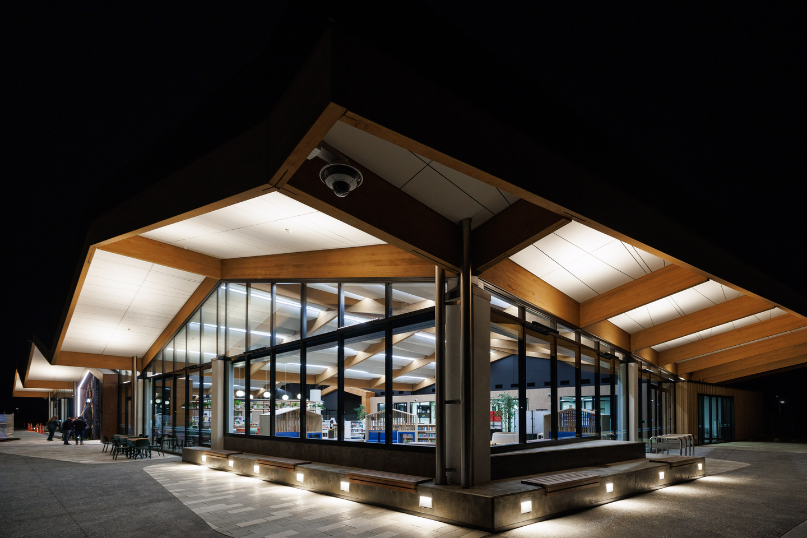 Te Kete Aronui Rototuna Library, the flagship building in Rototuna Village, officially opened today (Friday 21 July), with a blessing from Ngaati Wairere and Te Haa o te Whenua o Kirikiriroa.
As well as traditional library offerings, the space has a range of bookable meeting rooms, an Auaha Makerspace, fully accessible Changing Places bathroom and an on-site café called Chapter One. Users will be able to access a range of Council services from the library, including general enquiries, rates payments and dog registrations.
Hamilton Mayor Paula Southgate said the Village and Library are fantastic examples of community-led place-making and have given people who live in the area a place to call their own.

"We owe this building to the passion and ideas of the local community, and their representatives, who helped Council create a space which will benefit so many people," Southgate said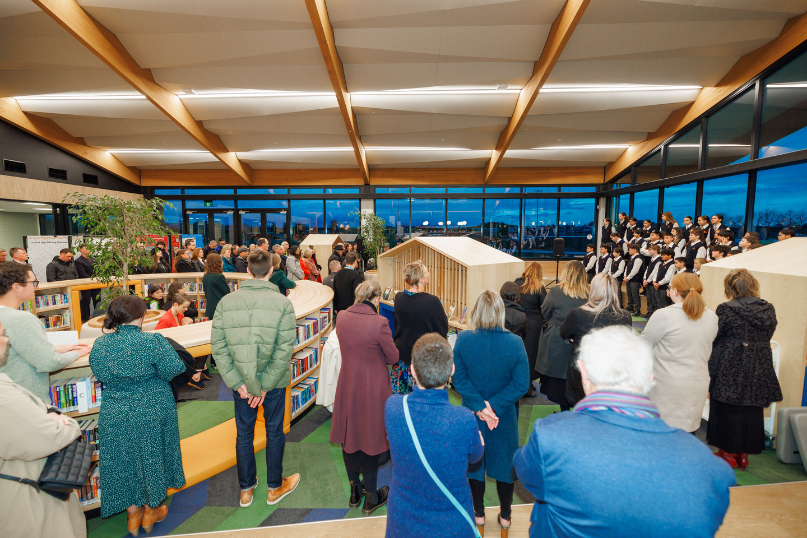 "Our libraries are taonga (treasures) for our community. They help shape vibrant, connected communities. I'm proud to open this new taonga for Rototuna, and all of Hamilton Kirikiriroa, to enjoy."

Te Kete Aronui refers to one of the three baskets of knowledge collected by Taawhaki in the Maaori legend. The name reflects the role of the library as a community space for learning and knowledge.

Southgate said the design and name of this building and wider Rototuna Village were influenced by mana whenua to ensure the history and stories of the area were reflected throughout.

Customer and Community General Manager Helen Paki said this facility was the first of its kind for Hamilton.

"Our vision for our city's libraries is to inspire creativity, promote life-long learning, and strengthen our communities. Te Kete Aronui Rototuna Library is the first purpose-built space that demonstrates our new direction," she said.

"This project would not have been possible without the passionate group of staff, designers and contractors who worked tirelessly to bring the community's vision to life."
Council committed funds for the Rototuna Village in its 2018-28 Long-Term Plan. Construction of the Village began in early 2022 and includes a skate space which opened earlier this month. Final touches to the outdoor areas, a play space and North City Road upgrades are expected to be completed by October.

The opening will be marked with a weekend of activities at the library for the community to enjoy. Keep up to date with what's planned at hamiltonlibraries.co.nz.

Features of the new library include:
A range of small and large meeting rooms and flexible spaces available to book.
Council services such as rates payments and dog registrations.
Hamilton's third Changing Places bathroom facility.
An on-site café called Chapter One.
An Auaha Makerspace, purpose-built for creative technologies.
Free wi-fi, with computer, printing and scanning services available.
Kids and young adults' zones, community lounge and a study/work area.
Borrow from self-checkouts, collect holds, plus return items 24/7.
A skate space integrated with the outdoor areas.
A play space designed for junior to intermediate use (opening October).