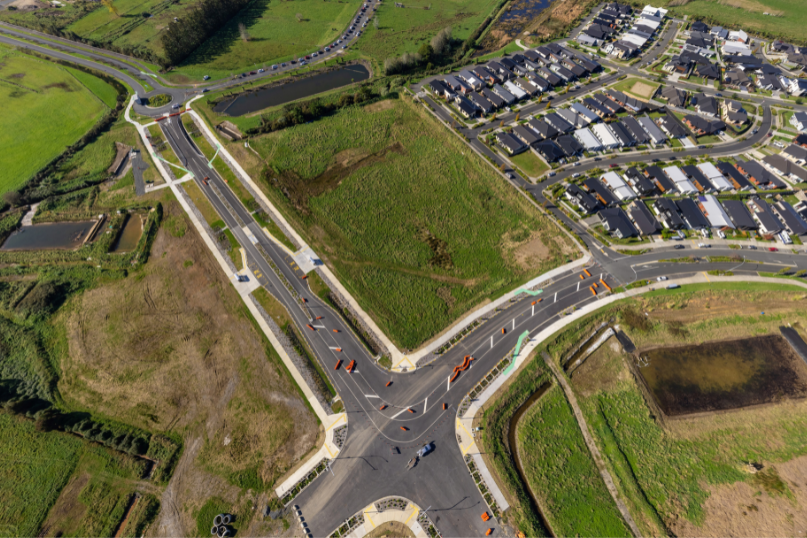 A new section of road has opened to the public in Rotokauri today (7 July 2023), the first of a suite of strategic transport connections and a new gateway that will connect residents with the rest of the city.

Rotokauri Development Limited, through a partnership with Hamilton City Council, delivered the Te Wetini Drive extension and upgraded stormwater solutions to support the planned homes and commercial developments in the area.

Council's Executive Director - Development, Chris Allen, said Rotokauri is one of our city's next big growth areas and we're working with developers in the area to progress essential infrastructure planning and investment.

The project has delivered the first section of the Rotokauri arterial transport network that was developed as part of the Rotokauri Structure Plan process in 2007. Since 2020, Council has developed plans for the arterial roading network through the Rotokauri arterial designation project. To protect the land where the future transport network will go, Council will soon lodge a Notice of Requirement.

Along with better connections for Rotokauri residents to the surrounding roading network in Te Rapa, Te Wetini Drive provides safer biking and walking routes and improves public transport options.

The project has some unique and complex elements such as the future-proofed stormwater culvert built 7m-deep under the road that is part of the Rotokauri Greenway, the strategic stormwater network needed before more homes are built.

"The greenway is necessary for future development in Rotokauri. The detailed design process is in the final stages and we're preparing for consents," said Allen.
As well as managing stormwater for Rotokauri as it grows, the greenway will improve water quality and habitats for native fish and eels and provide natural recreation space with walking and cycling paths.

"We appreciate our partnership with Rotokauri Development Limited to deliver this strategic project and it's fantastic to have this road open for the local community and getting the stormwater elements on line", said Allen.
COVID-19 lockdowns alongside labour and material shortages have slowed construction progress over the duration of the project.

"We appreciate the patience and understanding of the local residents as they have been eagerly waiting for this new transport connection", said Allen.
Rotokauri-Northwest is a key area for growth in Hamilton and significant planning work over the last decade has laid the foundations for development to happen in this area. We've been planning for strategic infrastructure in the area such as stormwater management and new transport networks so we're ready to get-going when funding and investment is available. Rotokauri-Northwest has a total capacity of up to 8,700 homes for about 22,000 people. The city's northern growth area is in a prime position for urban development – it's near by the Rotokauri Transport Hub, Wintec, The Base, Hamilton Zoo, Waiwhakareke Heritage Park and the Te Rapa employment zone.