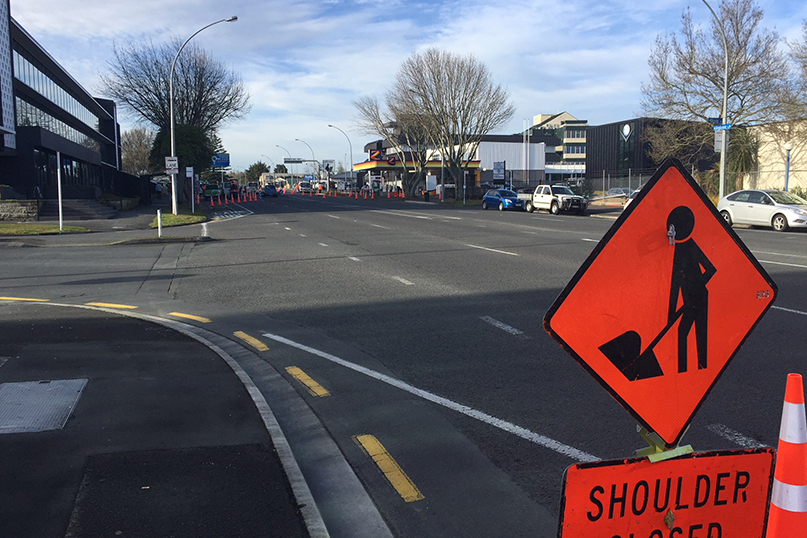 Work is underway at the south end of Anglesea St to improve safety for pedestrians, and to enhance the city's public transport system with an extension to the Anzac Pde bus lane.
The first work involves installation of a signalised pedestrian crossing at the existing pedestrian refuge, close to the Z petrol station. Our contractor will be working between 7am to 6pm, and some lane closures will be required at times. It is expected to be completed by the end of August.
This will be followed by installation of a bus lane along Anglesea St, from Knox St and linking to the Anzac Parade bus lane. The new bus lane will operate from 6am to 6.30pm, Monday to Saturday, and will require the removal of parking spaces along this length of Anglesea St. These parking spaces will be available outside of the bus lane operating hours, under existing parking conditions.
This complements the recent safety and parking improvement work in Knox St where angle parking and a new 30km/h speed limit have been introduced. This has resulted in 22 extra parking spaces, which will assist in offsetting the loss of daytime parking on Anglesea St.
Hamilton City Council Transportation Unit Manager Robyn Denton says the work supports the Council's goals of transport choice and easing congestion.
"We're always looking at ways for people to move around the city more easily, safely and freely. People who walk will be better able to get across Anglesea St, and the extension of the bus lane will allow buses to move more freely through traffic, reducing delays for passengers."
Waikato Regional Council Public Transport Manager Andrew Wilson says a bus travels along this section of Anglesea St every five minutes during the day.
"The extended bus lane will be great for our passengers with improved travel times and service reliability for people using buses on the six routes which currently travel along here. Thanks to this bus lane extension we're also looking at further service improvements which will make use of this key public transport corridor in the city."
While these improvements are being made the opportunity will also be taken to replace watermain pipes and upgrade the footpath on the bus lane side of the street.
Thanks in advance to all road users for their understanding while this safety, transport improvement and asset maintenance work is done.