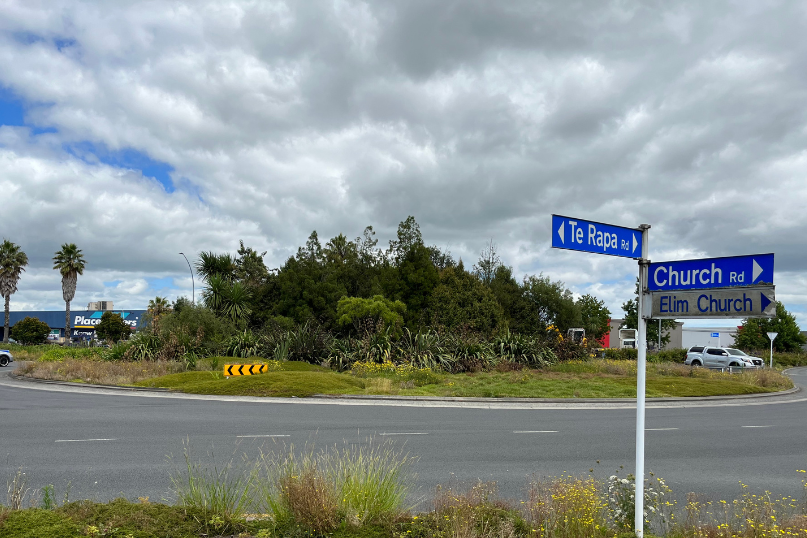 Hamilton City Council is taking a proactive approach to making some of the city's busiest roundabouts safer for everyone.
Safety improvements are planned for the Church Road/Te Rapa Road roundabout in the city's north, with works timed to start on 9 February, weather dependent.
The 12-week project is one of a series of upgrades being made to key roundabouts across Hamilton and is funded through the low-cost, low-risk programme of works.
Improvements to the Church Road/Te Rapa Road roundabout include installing raised safety platforms on all the legs of the roundabout, making the intersection more accessible to people on bikes, and removing some vegetation to improve visibility for road users.
About 28,000 vehicles pass through the roundabout each day.
Council's transport programme delivery lead, Dharmen Singh, said improving road safety across key areas of the city gives people greater choices to get where they need to go safely and efficiently.
It also supports Waka Kotahi NZ Transport Agency's Road to Zero vision where no one is killed or seriously injured in road crashes.
"When it comes to roundabout upgrades, one question I get asked a lot is how many people have died or been seriously injured at the intersection?"


"For the Church Road/Te Rapa Road roundabout, the answer is none but there have been too many near misses. This is about taking a proactive approach. We don't want to wait until someone is killed or seriously hurt before we implement changes."

The raised safety platforms are designed to lower vehicles' speeds to 30km/h when travelling through the roundabout, making the intersection safer for pedestrians and people on bikes.
The low-cost, low-risk programme is a schedule of transport projects that aim to make our streets safer and more accessible for everyone, no matter how people choose to travel.
Sites included in the programme are identified by Waka Kotahi in partnership with Council. Project costs have to be under $2 million.
"We're not just picking any intersection and making upgrades for the sake of it. For each site, we study its crash history, traffic volume and speeds, types of vehicle usage and accessibility."
The number of people walking, biking and scootering through the Church Road/Te Rapa Road roundabout is expected to increase as work progresses on the Te Awa Lakes residential development in Hamilton's north.
The roundabout upgrade is expected to cost approximately $1.1 million with 51% of the cost funded by Waka Kotahi. This project is part of Hamilton City Council's Access Hamilton Strategy – Ara Kootuitui Kirikiriroa and aims to help people connect to places in safe, accessible and smart ways.