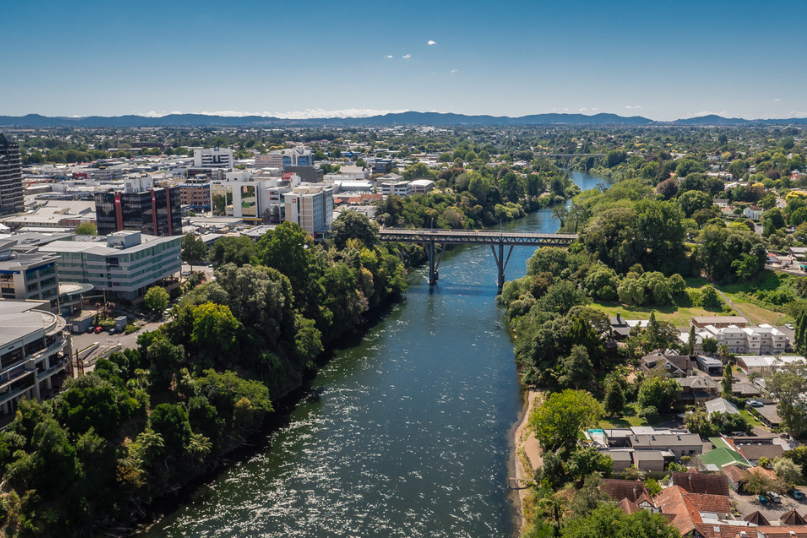 Today's Infrastructure and Transport Committee meeting was a chance to reflect on recent achievements across water, waste minimisation and transport, and make some final decisions before wrapping up for the year.
Western bulk water mains work commended
In her report as Chair of the Infrastructure and Transport Committee Meeting, Deputy Mayor Angela O'Leary celebrated the work that has been done to mitigate risk to Hamilton's twin Western Bulk Water Mains.
McGuire Drainage and Contracting and Council's Three Waters unit have spent the past seven weeks reinforcing the bank of the Waikato River at the mouth of the Mangakootukutuku Stream, where changes in river level and flow had worn away a section approximately 30 metres long underneath the pipes.
Deputy Mayor O'Leary said she was "struck by how challenging the site was to work on as well as some of the simplest solutions that were being used to tackle a mammoth problem".
"We are served incredibly well with our team in the waters area and this project is again evidence of that," she said.
Waste Management and Minimisation Strategy consultation approved
Residents will soon have their say on Council's Waste Management and Minimisation Plan after the Committee gave their approval for consultation.
Councils are required to review their waste plans every six years, with Hamilton City Council's Waste Management and Minimisation Plan 2018 - 2024 up for review next year.
The draft Waste Management and Minimisation Strategy – Te Rautaki Whakataahara Para 2024 – 2030 (The Strategy), the partnering waste audit and the consultation document, were reviewed and approved at today's meeting, with the green light given to seek residents' feedback from 23 January 2024 to 23 February 2024.
While previously called a plan, the document is now referred to as a strategy, as it shapes Council's vision and priorities for the next six years and will sit alongside other Council strategies published on its website.
Rototuna bypass project put on hold
A planned extension of Bourn Brook Ave (from North City Road to Turakina Rise) in Rototuna has been put on hold until a review of the Rototuna Town Centre Structure Plan can be undertaken.
The Committee today approved a staff recommendation to delay progressing the Rototuna Town Centre Bourn Brook Ave extension project – which aims to move traffic away from North City Road and the Rototuna Town Centre – until the Rototuna Town Centre Plan can be reviewed and updated. This will allow for a fresh look at the integration of the Rototuna Town Centre with existing and future transport corridors and to confirm what the optimum land use is considering the constraints imposed by a nearby stream and the requirement of the National Policy Statement – Freshwater Management (NPS-FM).
A report on the Rototuna Town Centre Plan review will go to the Strategic Growth and District Plan Committee once a Memorandum of Understanding has been created.
Improvements to be made at Transport Centre
Improvements will soon be made at Hamilton's Transport Centre after a revised scope of work was given the green light.
With the Hamilton-Waikato Metro Spatial Plan currently under development likely to affect the form and location of the Transport Centre in future, staff recommended to the Committee that it approve an option to downscale the scope of the rejuvenation project from what was initially approved in April 2021. The revised scope will enable staff to address some issues with safety, accessibility and utilities, while remaining within the previously approved budget of $8.3 million (with 51% of the cost to be subsidised by Waka Kotahi).
The Committee also approved the recommendation that funding be consolidated into the current financial year, rather than spreading it across the 2023/24 and 2024/25 financial years.
Next step for new water reservoir and pedestrian and cycle bridge projects
Council staff got the nod to proceed with the design procurement for a new water reservoir and pedestrian and cycle bridge for the central city. These are two of several infrastructure projects funded through central Government's IAF (Infrastructure Acceleration Fund) to help unlock housing in the central city.
Infrastructure and Transport Operational Activity Report
Key activities and achievements across the areas of Three Waters, Sustainable Resource Recovery and Transport were spotlighted in the Infrastructure and Transport Operational Activity Report, while a nationwide strategy which will bring change to the city's kerbside recycling was also noted.
The report highlighted that from 1 February 2024, the Ministry for the Environment will require all councils to collect the same items in kerbside recycling as part of their Standardising Kerbside strategy. These changes will be reflected in Hamilton's kerbside service, with the major difference for Hamiltonians being which plastics can go into the yellow-lidded kerbside recycling bin. From 1 February 2024, Council will only be collecting plastics with a number 1, 2 and 5 on them, along with paper, cardboard, clean cans and tins. Glass will still be accepted and collected separately in the green/blue kerbside crate.
The change to kerbside recycling will be communicated to residents prior to it coming into effect.
Key staff member acknowledged
Deputy Mayor O'Leary noted that today's meeting would be last for Council staff member Eeva-Liisa Wright, who will soon be leaving the organisation after a 15-year tenure. Wright has held a number of positions at Council including key leadership roles over the past five years, as General Manager, Infrastructure Operations and Executive Director, Infrastructure Operations.
"You have been the backbone of this committee and a big support to me, and I thank you for your contribution," said Deputy Mayor O'Leary.
Wright also spoke to the Committee about her time at Council and said she is leaving "with many proud leadership moments."
"I am extremely proud of our people – I believe that our core infrastructure team is one of the most skilled teams in the country, and I know that our city is in really good hands," she says.
The next Infrastructure and Transport Committee will be on 5 March 2024.