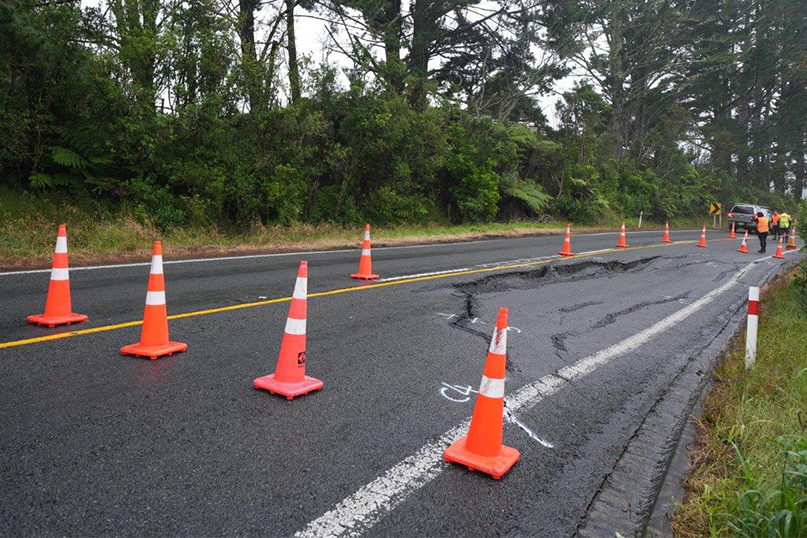 From our partners at Waka Kotahi
Updated: 8pm Wednesday 1 February
Waka Kotahi has let us know that SH23 will be closed from 7pm tonight, 1 February, after an inspection of the road this afternoon confirmed that, despite efforts, more water is getting into the slip.
This will be closed until at least 7am 2 February pending another inspection taking place early tomorrow morning.
Check out Waka Kotahi's Travel Planner for updates
---
State Highway 23 is still open to one lane this morning, however Waka Kotahi NZ Transport Agency advises road users should be prepared that the highway may need to fully close at short notice.
There is cracking and serious slumping on the road west of Glentui Lane, which has worsened overnight.
Stop/Go traffic management is in place until further notice. Avoid unnecessary travel if you can. If you must travel, expect delays.
From 10am this morning traffic management will allow temporary works to widen the road and move the live lane further away from the problem area. As well as cold mix asphalt being applied to the cracks, an asphalt bund will be added to direct road water flow away in an effort to prevent further damage.
This is an evolving situation and Waka Kotahi is actively monitoring the site in an effort to keep the road open, to one lane, for as long as possible.
There are alternative routes available, however caution is advised as they are tight, winding roads.
Check social media and the Waka Kotahi Journey Planner for updates throughout the day.