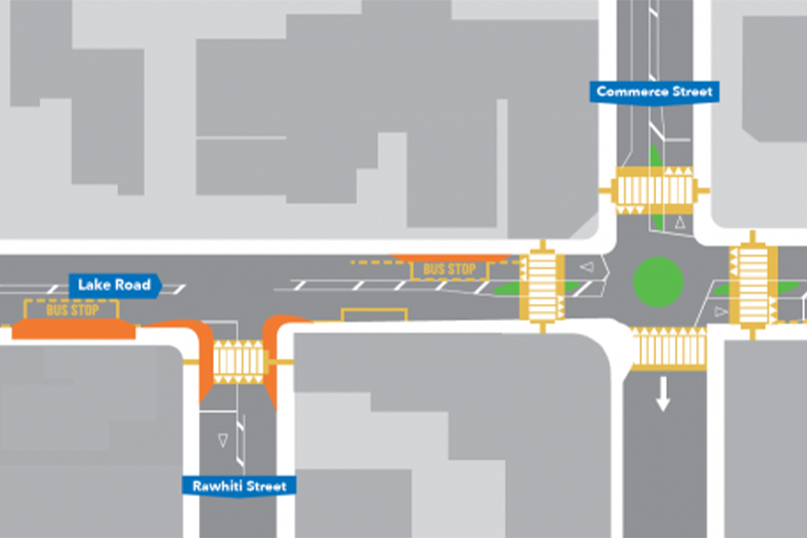 Construction of the first Transport Choices project in Hamilton Kirikiriroa began this week, which will see a new roundabout installed at the Lake Road and Commerce Street intersection in Frankton.
The project is about 90% funded by the Transport Choices package, part of the Waka Kotahi NZ Transport Agency's Climate Emergency Response Fund (CERF) programme, that will see 29 climate-friendly projects constructed in Hamilton before mid 2024.
The purpose of these projects is to help reduce transport emissions and make it easier for people to move around the city. 
Hamilton City Council's Public Transport and Urban Mobility Manager Martin Parkes, who oversees the Transport Choices projects, is excited to finally break ground, and is looking forward to the challenge ahead.  
"There's going to a be a steady flow of projects hitting the streets that aim to make it safer and easier for people to get around our city, no matter how they choose to travel," said Parkes. 
"There are some tight timeframes that we're working to. It's going to take hard work from our teams and some patience and understanding from the community to get these all wrapped up.
"We're in a climate emergency and doing nothing won't address the issue. The planet is telling us that the way we're living isn't working. Future generations are relying on us to make the right calls," he said. 
Waka Kotahi Manager Urban Mobility Kathryn King said the Transport Choices programme is supporting councils to give people more options in the way they travel.
"Our streets need to change. It's becoming clear that our communities want safer, more resilient, and adaptable streets with less traffic, so children can confidently walk or bike to school, and so people can consider getting to work on a bike instead of a car.
"The aim is to open up streets so everyone can get to where they need to go in ways that are good for their health and the planet."
Along with improving safety and accessibility, the Lake Road and Commerce Street roundabout project will also help unlock the city's newest bus route – the Meteor – that will link the east and west of Hamilton Kirkiriroa.
Changing the intersection layout to include a small roundabout will make it easier for buses to get through the area. The other improvements include installing raised zebra crossings at each approach to the intersection, and another at the Rawhiti Street intersection.  
Works are expected to take about 12 weeks to complete – most of which will take place under a road closure at night while there's less traffic.
Find out more about this project, and the other CERF projects here